Hoy -Hermenet Web Site
---
Hoy Family

Joel Washington Hoy
Born - June 9, 1842
Perry Township, Putnam County, Ohio
Enlisted in the Army in 1864
Civil War Veteran
Company G, 143rd Infantry, Regiment Illinois
Enlisted as Corporal May 13, 1864,
Mustered out September 26, 1865 at Mattoon, Illinois
Died - February 28, 1923
Laurelville, Hocking County, Ohio
Alternative Place of Death - Tarlton, Pickway County, Ohio
Buried - Stumpf Cemetery, Pickaway County, Ohio

Joel Washington and his 2nd Wife Matilda Ann (Sweet) Hoy
Photograph's and Obituary Courtesy of Janice (Courtright) Reed


Obituary
Joel Washington Hoy

Joel W. Hoy, son of David A. and Mary Hoy, was born in
Putnam County, Ohio, June 9, 1842 and departed this life,
February 28, 1923, aged 80 years, 8 months and 20 days.
When but a boy, in those sturdy pioneer days, he moved with
his parents to Shelby County, Illinois, where he lived until the
beginning of the Civil War when he volunteered for the service
serving as Corporal in Company G, 143 Regiment,
Illinois Volunteer Infantry.
He returned to Ohio and on April 1, 1869, he married
Miss Sarah Strous. To this union seven children were born,
Minnie E. Worden, Big Foote, Prairie, Illinois;
Mary E. Hiltbrunner of Rome, Ohio;
Naomi B. Hartsough of Laurelville;
Jeanette Hope of Corning, Ohio; Simeon G. Hoy of Laurelville;
Lucretia Bottley, of Walworth, Wisconsin;
and Leona Suitor, who by only a few days, preceded her father
and joined her mother in the Spirit world.
(Leona died on February 10, 1923).
On June 27, 1886, he married Matilda A. Sweet, with whom he
lived until death bid them part. This marriage was blessed with
five children, Viola May Donaldson of Columbus;
Bertha A. Jinks of Laurelville; Margaret Courtright of Columbus;
and two that died in infancy.
There remains to mourn his departure, his companion,
nine children, a foster daughter, Gladys Reid,
31 grandchildren, 4 brothers, and three sisters,
Adam M. Hoy of the Soldier's Home in Kansas;
Catherine E. Hoy, Jacob M. and D. Wesley Hoy of Assumption,
Illinois; Albert M. Hoy of Indiana, Mary Margaret Cornell
of Big Pine, California; and Julia Lucretia Jinks of Bethany, Illinois
besides other relatives and friends.
The deceased became a Christian in the prime of life and united
as a charter member with the Laurelville United Brethren church
of Laurelville at the time of it's organization where he remained
a member until his death.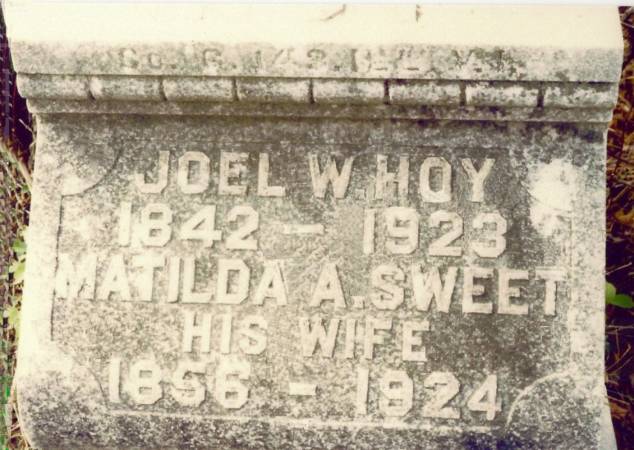 First Wife - Sarah (Strous) Hoy
Born - January 29, 1850
Laurelville, Hocking County, Ohio
Married - April 1, 1869
Hocking, Ohio
Died - June 6, 1883
Pickaway, Ohio
Sarah's Parents - Allen and Mary (Friend) Strous
To This Union 7 Children Were Born

Daughter - Minnie Eliza (Hoy) Worden
Born - March 25, 1870
Perry Township, Hocking County, Ohio
Married - July 21, 1896
Laurelville, Hocking County, Ohio
Died - January 25, 1929
Harvard, McHenry County, Illinois
Husband - Edgar C. Worden
Born - August 16, 1852
Brattleboro, Windham County, Vermont
Died - July 19. 1946
Detroit, Wayne County, Michigan
To This Union 4 Children Were Born
Daughter - Mary Elizabeth (Hoy) Hiltbrunner
Born - July 1, 1871
Perry Township, Hocking County, Ohio
Died - May 2, 1954
Husband - John Hiltbrunner
Daughter - Naomi Beatrice (Hoy) Hartsough
Born - February 14, 1872
Perry Township, Hocking County, Ohio
Married - April 22, 1891
Hocking, Ohio
Died - December 20, 1944
Laurelville, Hocking County, Ohio
Husband - George W. Hartsough
Born - 27 August 27, 1866
Perry Township, Hocking, Ohio
Died - 30 September 30, 1945
Falls, Hocking County, Ohio
Daughter - Leona E. (Hoy) Suitor
Born - December 13, 1874
Shelby County, Illinois
Married - February 19, 1896
Died - February 10, 1923
Husband - Peter Suitor
Daughter - Jeanette Bernice (Hoy) Hope
Born - December 17, 1877 - Ohio
Married - June 24, 1895
Hocking, Ohio
Died - November 14, 1963
Husband - Burl G. Hope
Born - 6 February 6, 1870
Perry Township, Hocking County, Ohio
To This Union 3 Children Were Born
Son - Simeon Garfield Hoy
Born - September 28, 1879
Laurelville, Hocking County, Ohio
Wife - Lillian E. (Turner) Hoy
Daughter - Lucretia (Hoy) Bottley
Born - October 16, 1881
Perry Township, Hocking County, Ohio
Married - January 3, 1900
McHenry, Illinois
Died - September 1974
Walworth, Walworth County, Wisconsin
Husband - Albert Bottley
Born - December 23, 1876
Alden, Illinois
Died - June 1969
Walworth, Walworth County, Wisconsin
To This Union 2 Children Were Born

Joel's 2nd Wife - Matilda Ann (Sweet) Hoy
Born - September 15, 1856
Perry, Hocking County, Ohio
Married - June 27, 1886
Died - December 25, 1924
Hocking, Ohio
Buried - Stumpf Cemetery, Pickaway County, Ohio
Matilda's Parents - Kingsbury & Mariah Sweet
To This Union 3 Children Were Born

Daughter - Viola M. (Hoy) Donaldson
Born - September 1888 - Ohio
Died - November 13, 1981
Dayton, Montgomery County, Ohio
Husband - Roy U. Donaldson
Born/Died - 1881-1954
To This Union 3 Children Were Born
Daughter - Bertha A. (Hoy) Jinks
Born - November 2, 1891
Green, Ross County, Ohio
Married - December 18, 1910
Colerain, Ross County, Ohio
Died - October 16, 1982
Green, Ross County, Ohio
Husband - Verne Jinks
Born - June 21, 1888
Colerain, Ross County, Ohio
Died - May 11, 1974
Laurelville, Hocking County, Ohio
To This Union 4 Children Were Born
Daughter - Margaret Ellen (Hoy) Courtright
Born - June 21, 1894 - Ohio
Died - April 22, 1991
Grove City, Franklin County, Ohio
1st Husband - Harry Stout Courtright
Born - July 2, 1892
Fairfield, Fairfield County, Ohio
Married - 1912 - Divorced - 1942
Died - November 1, 1971
Logan, Hocking County, Ohio
To This Union 6 Children Were Born
2nd Husband - Elmer B. Pinkerton
Born - June 1, 1883 - Ohio
Married - September 28, 1956
Died - July 2, 1964
Columbus, Franklin County, Ohio


Brother - John Bigelow Hoy
Born - May 16, 1840
Wife - Catherine (Stump) Hoy

Brother - Adam Matthew Hoy
Born - March 27, 1844
Perry, Ohio
Wife - Laura Alice (Cornell) Hoy
Sister - Catherine Lucetta Hoy
Born - September 27, 1846
Perry, Ohio
Brother - William Joshua Hoy
Born - January 8, 1849
Perry, Ohio
Died - September 4, 1917
Brother - David Wesley Hoy
Born - November 18, 1850
Wife - Lizzie S. Hoy

Brother - Jacob Matthew Hoy
Born - April 26, 1851
Wife - Jessie (Hitt Shaw) Hoy
Brother - Albert Noah Hoy
Born - November 10, 1856
Perry, Ohio
Sister - Mary Margaret (Hoy) Carnell
Born - December 15, 1858
Perry, Ohio
Died - November 18, 1933
Big Pine, California
Husband - Washington Le Roy Cornell
Sister - Julia Lucretia Hoy
Born - December 8, 1860
Perry, Ohio
Married - March 9, 1884
Pickaway, Ohio
Died - August 28, 1938
Husband - John L. Jinks - Born - 1865

Father - David Andrew Hoy
Mother - Mary Margaret "Polly" (Stump) Hoy

Grandfather - John Adam Hoy
Grandmother - Barbara Hoy

Great - Grandfather - Johann Phillip (Heu) Hoy
(Phillip Hoy )
Great - Grandmother -
Barbara Hoy

Great - Great Grandfather - Johann Carl (Heu) Hoy
Great - Great Grandmother - Maria Eva (Schaurer) Hoy

Family Indexes
Last Up-Date 04/13/2012 10:23:44 AM