Hoy -Hermenet Web Site
---
Hoy Family
Rev. William Edwin Hoy
Born - June 4, 1858
Mifflinburg, Union County, Pennsylvania
Married - December 27, 1887 - Japan
Occupation - Reformed Church Missionary to Japan
Died - March 3, 1927
Buried - Mifflinburg Cemetery, Mifflinburg,
Union County, Pennsylvania
After graduating from Franklin and Marshall College (1882) and Lancaster Theological Seminary (1885), Hoy was ordained and appointed by the Reformed (German) Church in the United States and sailed for Japan in 1885. He quickly identified Sendai in northern Japan as strategic, and upon arrival there in January 1886 launched a small school for training Japanese pastors, while also carrying on active evangelistic work. He helped start a girls' school, now Miyagi Gakuin, and the following year married Mary Ault, one of its teachers.
In 1891 Hoy's school became Tohoku Gakuin (North Japan University).

Burdened with a wide variety of responsibilities, including publication of a bimonthly English journal, the Japan Evangelist, and suffering from asthma, he went to Shanghai in 1898 for a three-month health furlough. After traveling up the Yangtze to Hankow, he determined to launch a mission in Hunan Province, resigned from the Japan Mission, and in 1900 settled at Yochow. For 25 years Hoy was at the center of a rapidly developing program of schools for boys and girls, evangelistic outstations, and medical work. He was granted the D.D. by Franklin and Marshall (1903) and the LL.D. by Heidelberg College (1925). In the turmoil of revolutionary civil war, the Hoys were evacuated in 1927, and William Hoy died on shipboard. His daughters Gertrude and Mabel also served as missionaries in China.
Added Note From FAG Researcher, Ken Sell: William, Mary Belle and Gertrude Hoy
left Shanghi, China on February 20, 1927 on the ship President McKinley. They docked
in Seattle on March 7, 1927. In was during this voyage that William died of a stroke
while at sea on March 3, 1927.
Reverend William Edwin & Mary Belle (Ault) Hoy, with Inis.
Photograph Courtesy of Mr. Huburt Ling and his Mother, Mrs. Leah Ling.
This Photograph is just one of many from a Photo Album belonging to Mrs. Ling's
Foster Mother, Mrs. Alice E. Traub, who was a nurse and one of the workers from the
Hoy Memorial Hospital complex in Yoeyang (Yoyang/Yochow), China.
Wife - Mary Belle (Ault) Hoy
Born - September 10, 1863
Mechanicsburg, Cumberland County, Pennsylvania
Mary Belle graduated at the Keystone State Normal School,
Kutztown, Pennsylvania in 1885
Died - November 5, 1937
Hankow, China
Buried - International Cemetery,
Hankow, Hupeh, China - Grave #581
Note: This cemetery was destroyed by the Communist government in the early 1950s.
To This Union 6 Children Were Born
Mary Belle's Father - Rev. John Ault
Born - April 1, 1836
Annville, Lebanon county, Pennsylvania
Married - July 21, 1859
Civil War Veteran
Served with the 126th Regiment,
Pennsylvania Volunteer's as Chaplain
From December 2, 1862 to May 20, 1863
Died - July 26, 1880
His remains were buried near the entrance to Christ Church
Where he ministered from 1873 until the time of his death in 1880.
Christ Reformed Church near Littlestown,
Adams County, Pennsylvania
Mary Belle's Mother - Sarah Isabella (Waggoner) Ault
Excerpts Taken From...
"History of the China Mission of the Reformed Church of the United States"
By Author: Rev. William Edwin Hoy
"After a month of patient waiting on the Lord for
indications of His leading, we left Kamakura on February
19, 1901, and arrived at Kuling the first week of March.
As soon as Mrs. Hoy and the five children were
comfortably settled in our Kuling house, Mr. Cromer and I
hastened on to Yochow. On our arrival there, we were
entertained five days by Rev. and Mrs. A. L. Gregg, of
the London Mission. Their Chinese evangelist spent
much time in helping us to rent a house and to get our
little home in order. Were we to describe minutely
everything connected with that house and with our
effort to get it clean, it would be necessary to give you
an ugly picture of filth, and, of course, the odors could
not be put on paper. Dr. John, the great missionary
of the London Mission, called there once, and said,
"You must not put your wife and children in such a
place as this." We lived right among the Chinese and
soon learned what a Christless community means. It
was a poor home, and yet in that house we made the
real beginning of our work in the second land of my
adoption, and fond recollections somehow cast a spell
over the place, which life and work in more suitable
•environment cannot break. The place marks a starting
point, and therein lies its value for me.

Humble and inadequate as our first home in Yochow
was, it might have been for us a palace of hope and
•endeavor had not Brother Cromer's affliction now cast
a shadow over our work. The young man suffered great
pain in his eyes and as a prevention of further serious
trouble it was thought best that he should desist from
all study. The disease grew worse and during the fall
of 1901 he resigned from the service of our Board. In
November, 1901, Rev. Fred Cromer left Yochow on his
laray home to the United States of America. I went
with him as far as to Killing. My family then removed
to Yochow, arriving there two days before Christmas, 1901".

"Upon our arrival in Yochow City, December 25,.
1901, Mrs. William E. Hoy had gathered into the
Mission Compound a group of five Chinese girls.
She employed a Chinese woman to act as matron, and
with the assistance of a Chinese teacher the girls received
instruction in the principles of Christianity as presented
in the Catechism and a few other books prepared
especially for school work.

During the year nine girls were added, making the
enrollment fourteen. This was the beginning of the
Yochow City Girls' School.

It was the first time in the history of Yochow that
any one, generally speaking, had taken an interest in
the education of girls. An educated son was an honor
to the family and might some day secure an official
position and be able to support not only his immediate
family, but many of his more remote relatives. Not
so a daughter. Why should parents spend money on
her education when all the benefit of her culture would
be enjoyed by another family? "

The Hoy Memorial Hospital
Yochow City, Huhan, China
The Hospital was dedicated to the Memory of little David, the son of
Rev. and Mrs. William E. Hoy, whose early purpose of becoming a missionary
doctor was cut short by the hand of death. On March 4, 1907, the
"David Schneder Hoy Memorial Hospital" was formally opened and
consecrated to the service of God for man. A large number of friends gathered,
including officials, literary men, and gentry, for the simple dedicatory in which the
name of Jesus was glorified.
Staff and Local Workers at the Hoy Memorial Hospital, Yochow, China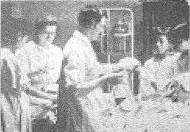 The Operating Room at the Hoy Memorial Hospital, Yochow City, China
"In September of 1913, to fill the vacancy in the Shenchowfu
hospital. Miss Gertrude B. Hoy arrived in October, 1913.
She is the first missionary to be appointed from
among our Reformed missionary children born on foreign soil."

Source: "History of the China Mission of the Reformed Church of the United States"
Author: Rev. William Edwin Hoy
Son - Carl Witmer Hoy
Born/Died - June 5, 1889
Sendai, Japan
Son - William Edwin Hoy Jr.
Born - August 23, 1890
Sendai, Japan
Married - November 2, 1918
Died - July 29, 1973
Greensboro, North Carolina
Wife - Mabel Elizabeth (George) Hoy
Born - February 5, 1891
Died - December 21, 1978
Greensboro, North Carolina
To This Union 2 Children Were Born
Daughter - Mary Camilla Hoy
Son - William Edwin Hoy 3rd
Daughter - Gertrude Blanche Hoy
Born - July 25, 1892
Tokyo, Japan
Died - March 28, 1980
Annville, Lebanon County, Pennsylvania
Buried - Greenwood Cemetery, Lancaster,
Lancaster County, Pennsylvania
Miss Gertrude B. Hoy
Photograph Courtesy of Mr. Huburt Ling and his Mother, Mrs. Leah Ling.
Daughter -Mabel Ruth (Hoy) Kiaer
Born - October 8, 1893
Sendai, Japan
Died - February 10, 1970 - China
Husband - Nicolai Kiaer
Born - 1884
Died - 1934
Yanzee River, China
To This Union 2 Children Were Born
Daughter - Edle Kiaer
Daughter - Ruth Kiaer
Son - David Schneder Hoy
Born - November 1, 1895
Lancaster, Lancaster County, Pennsylvania
Died - September 18, 1902
Hankow, China
Son - Charles McCauley Hoy
Born - September 28, 1897
Sendai, Japan
Died - September 7, 1923
Kuling, China
Buried - Kuling Estate Cemetery,
LuShan, Jiangxi, China
The late Charles M. Hoy, shortly before his death, transmitted
to the U. S. National Museum a general collection, containing
a few birds taken at or near Yochow, Hunan. In the
lot there is a small bulbul that differs considerably from any
of the descriptions that I have been able to consult. I take
pleasure in naming it after its discoverer:

Pycnonotus hoyi

Type, sub-adult female, U. S. National Museum, No. 279,442, Yochow,
Hunan Province, China, June 13, 1923. Collected by Charles M. Hoy
(original No. 1075).

Pileum light grayish olive; back buffy citrine, slightly fulvous on the
rump; wing-coverts like the back; remiges chaetura drab, edged outwardly
with pyrite yellow, except on the two outer primaries; tail chaetura drab,
the feathers edged outwardly with pyrite yellow, the middle-pair showing
a yellowish sheen in certain lights; cheeks a little lighter than the pileum
and the ear-coverts grayish-white posteriorly; below white, the chest
crossed by a pale smoke gray band; the breast and belly with almost
obsolete streaks of napthalene yellow, slightly more pronounced on the
under tail-coverts; under wing-coverts white; remiges below deep mouse
gray, whitish on the inner webs basally. Wing, 76; tail, 66; culmen, 13;
tarsus, 21; middle-toe, 14 mm.

Remarks. — This species is of about the same size and build as
Pycnonotus erythropthalmus, but quite different in color.

Published with the permission of the Secretary of the Smithsonian Institution
Sister - Mary Catherine (Hoy) Schuck
Born - November 5, 1852
Union, Pennsylvania
Married - November 4, 1880
Died - April 4, 1895
Lewisburg, Pennsylvania
Husband - William John Schuck
Born - 1855 - Died - 1933
Union, Pennsylvania
Sister - Emma Lydia Hoy
Born - August 18, 1854
Union, Pennsylvania
Died - November 2, 1855
Mifflinburg, Pennsylvania
Buried - Mifflinburg Cemetery, Mifflinburg,
Union County, Pennsylvania
Brother - Jonas Hoy
Born - 1856 - Pennsylvania
Brother - James Gebhardt Hoy
Born - June 2, 1856
Wife - Mary Ada (Getz) Hoy
Sister - Ella (Hoy) Shively
Born -December 24, 1859
Limestone, Union County, Pennsylvania
Married - March 22, 1883
Died - April 29, 1931
Danville, Montour, Pennsylvania
Husband - Thomas Montgomery Shively
Born - November 20, 1857
Union Pennsylvania
Died - October 17, 1921
Mifflinburg, Union County, Pennsylvania
To This Union 3 Children Were Born
Sister - Annie Margaret Hoy
Born - September 10, 1862
Union County, Pennsylvania
Died - August 25, 1863
Mifflinburg, Union County, Pennsylvania
Buried - Mifflinburg Cemetery, Mifflinburg,
Union County, Pennsylvania
Father - Jonas Hoy
Mother - Elizabeth (Gebhardt) Hoy
Step - Mother - Catharine Matilda (Brown) Hoy
Grandfather - John (Heu) Hoy
Grandmother - Anna Maria (Berger) Hoy
Great - Grandfather -Johann Albrecht (Hey) Hoy
(Albert Hoy)
Great - Grandmother - Susannah (Snevely) Hoy
Great - Great - Grandfather - Johann Carle Hoy
Great - Great - Grandmother - Maria Eva (Schaurer) Hoy

Family Indexes
Last Up-Date 02/17/2012 02:04:25 PM