Hoy -Hermenet Web Site
---
Hoy Family
Can You Help Identify the
Family of this Cute Baby Boy,
Warner Hoy?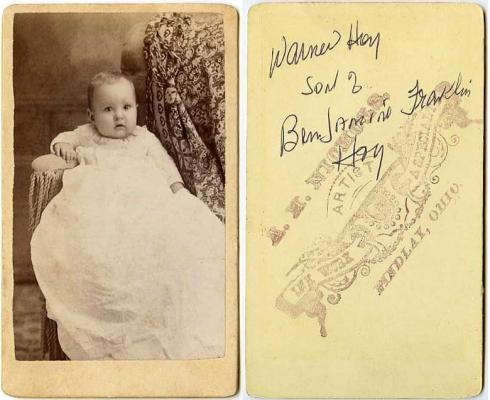 This Photograph was received from Calvin Hoy
It was found on the Dead Fred Web-Site.
On the Back of this Photo is written,
"Warner Hoy, Son of Benjamin Franklin Hoy"
It also has a Stamped by the Artist...
A. H. Nichols
Findlay, Ohio
Now this one Should be a No-Brainer.....
However, I have searched and been unable to come up with
Any Benjamin Franklin Hoy who had a son Named "Warner"
The Only Warner Hoy I've Found, Was Warner M. Hoy...
Grandson of James Thomas & Euphemia (Bennett) Hoy
Son of Bennett G. and Elma F. (Van Horn) Hoy
Born - October 20, 1887
Findlay, Hancock County, Ohio
Died - March 20, 1969
Sylvania, Lucas County, Ohio
Buried - Maple Grove Cemetery, Findlay,
Hancock County, Ohio
Wife - Alta May (Thomas) Hoy
I Know we have scads of Relatives who lived in Findlay, Ohio,
So This Little Guy has Almost Got to fit in Somehow!!!!

If you can be of any help...
Please E-mail me, Thank You!
Kathy (Hoy) Eltiste
Photo - WH -1



Last Up-Date 08/05/2009 04:09:23 AM