Hoy -Hermenet Web Site
---
Hoy Family
Nathaniel Hoy
Born - September 14, 1843
Bloom Township, Fairfield County, Ohio
Married - October 20, 1868
Lancaster, Fairfield County, Ohio
Died - February 7, 1902
Napoleon, Henry County, Ohio
Buried - Forest Hill Cemetery, Napoleon,
Henry County, Ohio

Nathaniel Hoy

Nathaniel Hoy, son George and Lydia Hoy, was born near
Lithopolis, Fairfield Co., Ohio, September 14th, 1843;
died at his present home in Henry County, Ohio, February 7th, 1902,
aged 58 years, 4 months and 28 days.
He was united in bonds of holy matrimony with Zelda A. Williamson
of Fairfield County, Ohio, Oct. 20th, 1868.
To this union were born three sons and three daughters,
all of whom survive.
In October 1884 he removed with his family from his native
home to their present one in Harrison twp., Henry County, Ohio.
He was the fifth in a family of eight children,
five brothers and three sisters,
all save one, Anna, having preceded him to the better world.
In early youth he was received into full communion with the German Reformed church and was ever a faithful and earnest member;
after his removal, the church of his early Christian experience
being too distant, his aid and influence was transferred to
Sharon M.E. church.
By his death the community loses an exemplary and respected
citizen and neighbor, the church a loyal and ever helpful friend,
and the family a loving and indulgent husband and father.
The funeral services were conducted by Rev. Swank,
at Sharon M. E. church, an immense audience being present
to testify to their friendship for the departed,
and the body was laid to rest in Forest Hill cemetery,
the Masonic fraternity assisting in the ceremonies.
CARD OF THANKS
We desire to sincerely thank those kind friends and neighbors
for the their timely aid and comfort during the recent illness
and death of our beloved husband and father.
The Democratic Northwest
Napoleon, Ohio
February 13, 1902
Obituary and Family Information
From The Descendants of George Kieffer and Ancestors of Craig Kieffer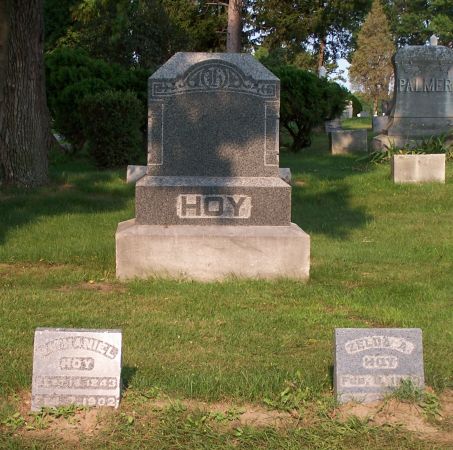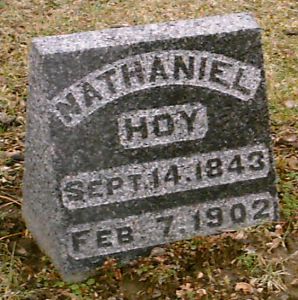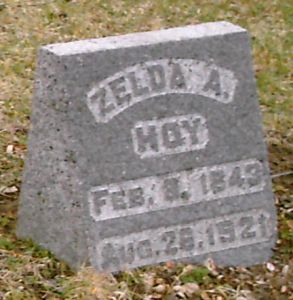 Wife - Zelda Ann (Williamson) Hoy
Born - February 8, 1843
Fairfield County, Ohio
Died - August 26, 1921
Napoleon, Monroe Township, Henry County, Ohio
Buried - Forest Hill Cemetery, Napoleon,
Henry County, Ohio
Zelda's Parents - Jacob Prather and Elizabeth Ann (Odell) Williamson
To This Union 6 Children Were Born

Zelda's Father - Jacob Prather Williamson
Born - March 4, 1804 - Virginia
Married - June 28, 1829
Highland County, Ohio
Died - March 16, 1876
Fairfield, Belmont County, Ohio
Zelda's Mother - Elizabeth Ann (O'Dell) Williamson
Born - August 12, 1807
Hillsboro, Highland County, Ohio
Died - January 15, 1894
Napoleon, Henry County, Ohio
Both Parents Buried - Wesley Chapel Cemetery,
Bloom Township, Fairfield County, Ohio

Son - Alonzo Wesley Hoy
Born - November 4, 1869 - Ohio
Died - August 20, 1943
Montpelier, Indiana

Daughter - Emaline Felicia "Emma" (Hoy) Hartman
Born - March 19, 1871
Lithopolis, Fairfield County, Ohio
Baptized - September 21, 1871
Salem/Glick Church, ,Bloom Township,
Fairfield County, Ohio
Died - March 1, 1953
Napoleon, Henry County, Ohio
Died - March 4, 1953
Buried - Forest Hill Cemetery,
Napoleon, Henry County, Ohio
Husband - Charles J. Hartman
Born - April 1869 - Ohio
Died - June 2, 1960
Napoleon, Henry County, Ohio
Buried - Forest Hill Cemetery,
Napoleon, Henry County, Ohio

Daughter - Lucinda "Louanna" Annie (Hoy) Stevens
Born - June 26, 1872
Lithopolis, Fairfield County, Ohio
Baptized - August 16, 1872
Salem/Glick Church, Bloom Township, Fairfield County, Ohio
Died - December 5, 1952
Lakewood, Cuyahoga County, Ohio
Buried - December 8, 1952
Lakeview Cemetery, Cleveland,
Cuyahoga County, Ohio
Husband - Dale O. Stevens
Born - March 26, 1866 - Ohio
Died - February 21, 1916
Buried - February 24, 1916
Lakeview Cemetery, Cleveland,
Cuyahoga County, Ohio

Son - George Jacob Hoy
Born - September 9, 1874
Lithopolis, Fairfield County, Ohio
Died - May/June 11, 1949
Montpelier, Indiana

Son - Walter Eugene Hoy
Born- August 9, 1877
Fairfield County, Ohio
Died - March 4, 1971
Napoleon, Henry County, Ohio
Wife - Ada R. Hoy
Born - 1882 - Ohio
Died - July 11, 1969
Napoleon, Henry County, Ohio
Daughter - Ina Roberta (Hoy) Kerman
Born - March 1, 1887 - Ohio
Married - September 8, 1912
Died - 1970
Husband - Rock Earl Kerman
Born - 1889 - Ohio

Brother - John Hoy
Born - December 6, 1829
Northumberland County, Pennsylvania
Wife - Mary Ann (Shride) Hoy
Brother - Jacob Hoy
Born - August 31,1831
Wife - Sarah (Schofstall) Hoy
Sister - Mary E. (Hoy) Custer
Born - April 2, 1834
Possibly Lockport, Niagara County, New York
Husband - John C. Custer
Sister - Lydia Ann Hoy
Born - September 1836
Possibly Lockport, Niagara County, New York
Died - 1907 - Ohio
Buried - Hoy (Shunk) Cemetery,
Henry County, Ohio
Sister - Annie L. Hoy
Born - 1837 - Ohio
(Note: In the 1880 Census, Annie is 43 years of age,
and living with George & Lydia, next door to Nathaniel)
Sister - Sarah Catherine Hoy
Born - April 7, 1845 - Ohio
Died - January 8, 1855
Buried - Glick - Hoy Memorial Cemetery,
Bloom Township, Fairfield County, Ohio
Baby Brother Hoy - Born 1846
Died - September 20, 1846
Baby Brother Hoy - Born - 1848
Died - January 9, 1848
Both Babies are Buried - Glick - Hoy Cemetery
Bloom Township, Fairfield County, Ohio

Wife - Lydia (Kieffer) Hoy

Grandfather - John Adam Hoy
Grandmother - Barbara Hoy

Great Grandfather - Johann Philip (Heu) Hoy
(Philip Hoy )
Great Grandmother - Barbara Hoy

Great Great Grandfather - Johann Carl (Heu) Hoy
Great Great Grandmother - Maria Eva (Schaurer) Hoy

Family Indexes
Last Up-Date 11/21/2010 10:24:26 AM