Hoy -Hermenet Web Site
---
Hoy Family
George Hoy
Born - June 6,1802
Northumberland County, Pennsylvania
Married - About 1826 - Pennsylvania
Died - July 9, 1884
Fairfield County, Ohio
Buried - July 12, 1884
Glick / Brick Church / Hoy Cemetery
Bloom Township, Fairfield County, Ohio
Aged - 82 Years, 1 Month and 3 Days

Death Notice

George Hoy died on July 9, 1884 in Lithopolis, Fairfield
County, Ohio, at age 82.
Mr. Hoy, one of the oldest and most prominent citizens of
Lithopolis, died Wednesday morning. Mr. Hoy has been
confined to his room for over a year the effects of a fall
and paralytic stroke.
He was buried in Glick/Brick Church/Hoy Cemetery,
Bloom, Township, Fairfield County, Ohio

Obituary
George Hoy

The death of George Hoy on the 9th of July, near the
Glick's church takes from our midst one of the oldest
inhabitants, and most respected and esteemed
Christian gentleman.
Father Hoy was born in Northumberland County,
Pennsylvania, June 6, 1802. Early in life he moved
to Lockport, New York. After living there a short
time, he came west and settled in Wayne County,
Ohio. In 1836 or 1837 he moved to Lithopolis, and
in 1840 moved on the farm where he died, after
a residence of 44 years, following his wife after a
lapse of only months. He was married before he
left Pennsylvania, and was the father of 8 children,
4 of whom are still living and were present at the
funeral. There are 23 grandchildren and 6 great
grandchildren.
Early in life he united with the Reformed Church
in Pennsylvania and remained a faithful and
consistent member of the same until his death. His
life stretches over 3/4 of a century, and he has
witnessed all the grand advancements of our country.
All the great inventions have been wrought out
during his lifetime. He was a laborer when men
gathered all their grain with a little hand sickle and
threshed it with the flail. And great indeed was the
change as he looked out upon the vast fields of
ripened grain and saw the self binder performing
its wonders. And so it was in all departments of life.
He had reached the advanced age of 82 years, 1 month,
and 3 days. His funeral occurred at the Glick Church,
attended by a very large concourse of friends and
relatives. The funeral services were conducted by
his Pastor, A. Henry and Reverend Jas. Heffley.
The burial was made in the graveyard cemetery.
He died in Fairfield County, Ohio, and his wife was
Lydia Kieffer Hoy.

Obituary of George Hoy Courtesy of Louise Baden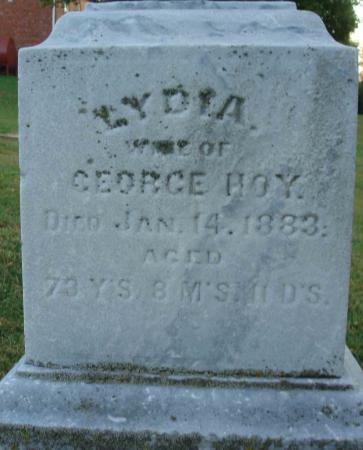 Wife - Lydia (Kieffer) Hoy
Born - May 3, 1809
Northampton (later Lehigh) County, Pennsylvania
Baptized - June 4, 1809
Friedens's Church, Upper Saucon Township,
Northampton County, Pennsylvania
Died - January 14, 1883
Bloom Township, Fairfield County, Ohio
Buried - Glick / Brick Church / Hoy Cemetery
Bloom Township, Fairfield County, Ohio
Aged - 73 Years, 8 Months and 11 Days
Lydia's Parents - George & Elizabeth (Fink) Kieffer
To This Union 8 Children Were Born
Timeline
On the September 10, 1850 Bloom Township, Fairfield County, Ohio Census,
George Hoy (49-PA) is living with his wife Lydia (41-PA)
and their children: John (20-PA), Jacob (18-PA),
Mary E., (14-NY) , Lyde Ann (12-NY),
Nathaniel (7-OH) and Sarah C., (5-OH)
On the June 5, 1860 Bloom Township, Fairfield County, Ohio Census, in Dwelling #54
George Hoy (58-Farmer-PA) is living with his wife, Lydia (51-PA)
and their children, Lydia A., (23-NY) and Nathaniel (16-OH).
Also residing with them is David Keefer (13-PA).
Living next door to George & Lydia, in Dwelling #55,
is John Hoy (30-Lawyer-PA) with his wife, Mary (24-OH)
and their children, Monroe (2-OH) and William G., (1-OH, But Could be PA).
Also residing with them is Catherine Shride (21-OH, But Could be PA)
Also on this same Census In Dwelling #52 is Isaac Hoy (46-Farmer-) and his wife, Meary (43)
and their children, Abram (21), Isaac (19), Jacob (17), Sarah (11), John (9) and Lydia (6).
and residing with them is Swander Lehr (18).
This census lists all of these people being born in OHIO,
which If you look at the rest of the Census,
should actually be Pennsylvania.
Note: Dwelling #53 is Reportedly "Unoccupied"
Son - John Hoy
Born - December 6, 1829
Northumberland County, Pennsylvania
Wife - Mary Ann (Shride) Hoy
Son - Jacob Hoy
Born - August 31,1831
Wife - Sarah (Schofstall) Hoy
Daughter - Mary E. (Hoy) Custer
Born - April 2, 1834
Possibly Lockport, Niagara County, New York
Husband - John C. Custer
Daughter - Lydia Ann Hoy
Born - September 1836
Possibly Lockport, Niagara County, New York
Died - 1907 - Ohio
Buried - Hoy (Shunk) Cemetery,
Henry County, Ohio
(Note: In the 1880 Census, "Annie" is 43 years of age,
and living with George & Lydia, next door to Nathaniel)
Son - Nathaniel Hoy
Born - September 14, 1843
Bloom Township, Fairfield County, Ohio
Wife - Zelda Ann (Williamson) Hoy
Daughter - Sarah Catherine Hoy
Born - April 7, 1845 - Ohio
Died - January 8, 1855
Buried - Glick - Hoy Memorial Cemetery,
Bloom Township, Fairfield County, Ohio
Baby Boy Hoy - Born 1846
Died - September 20, 1846
Baby Boy Hoy - Born - 1848
Died - January 9, 1848
Both Babies are Buried - Glick - Hoy Cemetery
Bloom Township, Fairfield County, Ohio
Father - John Adam Hoy
Mother - Barbara Hoy
Grandfather - Johann Philip (Heu) Hoy
(Philip Hoy )
Grandmother -
Barbara Hoy
Great Grandfather - Johann Carl (Heu) Hoy
Great Grandmother - Maria Eva (Schaurer) Hoy

Family Indexes
Home Hoy Hermenet Boise Shively
Last Up-Date 01/15/2012 09:25:12 AM