Hoy -Hermenet Web Site
---
Hoy Family
First Annual Reunion Hoy Family
Community Park, Millersburg, PA
August 18, 1928
Do You Recognize Anyone
in this Photo?
This Photograph was Courtesy of My Aunt Eva (Hoy) Haelen.
It was originally photographed as a Panoramic Photo.
Therefore, I am dividing it into 5 Sections.
This Photograph Was Taken By:
"Ensinger Studio - Harrisburg, Pennsylvania."
This is Section 3
My Great-Grandfather Daniel Franklin Hoy, is in the Top Row,
5th from the Left.
Standing Next to Him, The Handsome Man in the Top Row,
6th from the Left is my Grandfather, Alfred Edgar Hoy.
My Grandmother, Ocie Fern (Shively) Hoy is in the 2nd Row.
She is the 4th woman from the Left.
My Aunt Winnie (Hoy) Barnes, is the cute girl in the Front Row,
4th From the Left, with short hair and glasses.
And My Dad, Daniel Lewis Hoy, is the little guy, sitting in the Front Row,
3rd from the Left, sitting next to Aunt Winnie, with his hands on his knees.
My Father's Great Aunt Sally Naomi (Hoy) Baer is sitting directly behind
Aunt Winnie, with a child on her lap.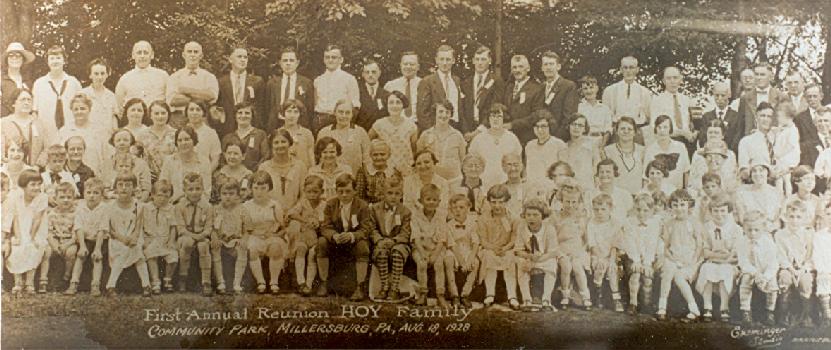 Below, are Enlarged Version's of the above Photo, Sliced into 2 sections.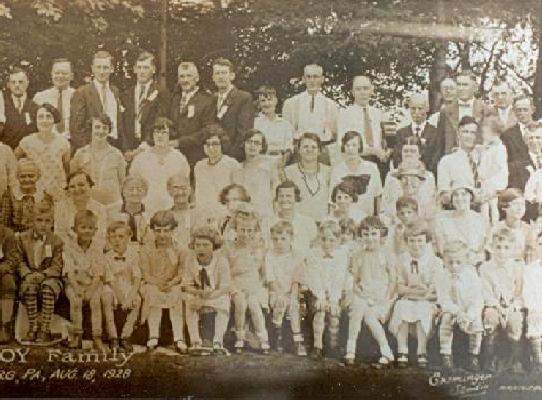 If you can be of any help...
Please E-mail me, Thank You!
Kathy (Hoy) Eltiste
Photo - HR-3



Last Up-Date 12/28/2009 09:22:51 AM