Eltiste-Kaiser Web Site
---
Kaiser Family
Loretta Marie (Achatz) Kaiser
Long Time Beautician Reminisces About Her Life
( From The Newsletter of Saint Joseph's Catholic Church -1996)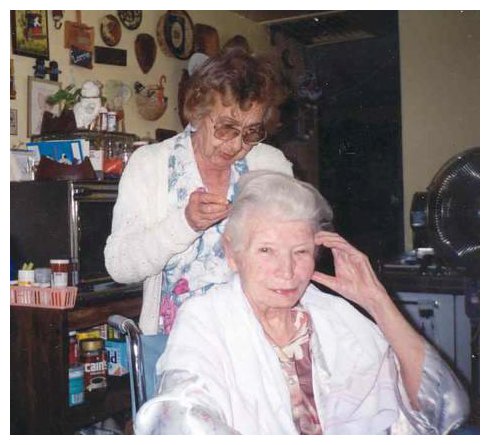 For nearly 58 years Ellinwood patrons have been getting their hair curled and cut by the capable hands of Loretta Kaiser. Wanting a career following high school, Loretta (Achatz) Kaiser worked her way through Beauty School in Omaha, Nebraska. She took her State Board in 1938 and immediately went to work in Ellinwood, By the fall of 1938 she had her own beauty shop.
Loretta was born January 7, 1915, on a farm northwest of town to Ed and Minnie (Helfrich) Achatz. She had one sister Lorraine Tomberlin, who passed away of cancer in 1960. "Being the oldest, I was the boy," says Loretta of her life on the farm. "Lorraine and I helped with the chores. There was always the cows to get in or eggs to gather.
"I had a pet pig," Loretta laughed. It was a runt and Dad said, "If you can raise it you can have it". There was also a pet chicken and her dog. She told me the three would walk down to the end of the drive each day and wait for her to come home from school.
Loretta remembers that she had long curls when she was small and that she liked to be in the school plays. Once she gave the address of welcome when the Bishop paid a call. Religion was very important in the lives of the Achatz family.
After St. Peter and Paul School, Loretta attended Ellinwood High School. The first year she stayed with her Grandpa Henry Achatz, who lived where John Rapps now live. After that she rode to town with the neighboring Bryant boys.
Four years of high school and beauty school behind her, Loretta settled down to "fixing hair" and making a living. Her beauty shop was connected to a barber shop. You can now guess, dear readers, how Loretta met her future bridegroom. You guessed it, he came in to he a haircut.
John Kaiser was new in town, having grown up in Phillipsburg, Kansas and then transferred with the oilfield to Ellinwood. He was rooming with Bernard and Irene Schartz.
Loretta and John were married on October 21, 1946, in Saint Joseph Church. After surgery for a serious illness, he died 23 years ago on October 14, 1973, just seven days short of their 27th anniversary.
John & Loretta have three children; Ann, a professor at Peabody College in Nashville, Tennessee, Kay, who lives with her family in Ellsworth and works in Salina; and James, a resident of the "Bethpage Home", also in Ellsworth. There are two grandsons. Unable to care for himself, Jim lived with his mom nearly of his 46 years. She remarked that she "misses him terribly.
Loretta's hairdressing career didn't end with marriage. She worked for 35 years in her shop, eventually going into individual homes as far away as Hoisington, Claflin and Great Bend. For 17 years she fixed residents hair at Cherry Village and Ellinwood's Woodhaven. She still holds her license.
The Daughters of Isabella has been a big part of Loretta's life as a St. Joseph's parishioner. She went for 24 years without missing a meeting. Since 1970 she has held office every year except three, holding the office of Regent twice.
There is something special about Daughters of Isabella that I have always enjoyed. "Loretta thoughtfully replied to my question about what occupies her time. She currently holds the office of monitor and remarked, "I always tried to do the best I could.
For nearly 20 years Loretta worked with the Barton County Retarded Association first as membership chairman, then secretary, and finally vice president for the organization. When her children were small this energetic lady also spent 12 years as a bowling coach and 14 years as a scout leader.
What will we find the 81 year old Loretta doing these warm summer days? She'll probably be reading a good mystery story or playing a little bingo. She admits to not being much of a TV fan. She still sews with a group of ladies called RSVP, in Great Bend, who make bibs and lap robes to be taken to the four rest homes in Barton County, "I even play at the piano occasionally," she smiles.
It certainly has been a busy and rewarding life for this longtime hairdresser, mother, grandmother and cherished Daughters of Isabella sister.
Lightning Bugs a Story ~ By Kay Bailey
Poems for My Mother II ~ By Ann P. Kaiser



Family Indexes
Home Kaiser Fink Eltiste Rohrs
Eltiste Photos Kaiser Photos Rohr Photos Fink Photos
Last Up-Date 02/04/2007 01:27:55 PM