Eltiste-Kaiser Web Site
---
Adcock Family
Emily Helen (Swan) Roberts
Born - Sunday, August 29, 1819
Genesee County, New York
Married - Sunday, February 19, 1848
Brookville, Franklin County, Indiana
Residence - Monday, July 9, 1860
Cedar Township, Cedar County, Missouri
Residence - Monday, July 11, 1870
Peru Precinct, Nemaha County, Nebraska
Residence - Saturday, June 6, 1885
Peru Precinct, Nemaha County, Nebraska
Died - Saturday, November 12, 1904
Her Home, Nemaha, County, Nebraska
Buried - Sunday, November 13, 1904
Mount Vernon Cemetery
Peru, Nemaha, County, Nebraska
Section-4 Lot-262
85 Years 2 Months 24 Days

Obituary

It Death's Repose

On Saturday, November 12, at 6:30 a.m., occurred the death of
Mrs. Emily Roberts at the Roberts homestead two miles west of town.
Emily Swan was born in Genesee county, New York, August 29, 1819.
There she grew to womanhood, and taught a few terms of school.
In the spring of 41' she moved to Brookville, Indiana, making
the trip over land and by raft down the Ohio and Allegany rivers to
Cincinnati . On February 19, 1843, she was married to Billingsley
Roberts and in Brookville four of their children were born. In the spring
of 53' they moved to southwest Missouri locating in Cedar county.
Here they lived until the spring of 64', during which time the
remaining five children were born. The last three years of their
residence in Missouri was during the rebellion guerilla warfare
which made life very unpleasant. Together with several other
families they came to Nebraska and stopped at Nebraska City
where they remained until the fall of 64' when they moved to
their homestead west of this place where they have since resided.
Mrs. Roberts has been in failing health for a number of years, and
while her death was not a surprise, yet the announcement caused
general grief because of her long residency and large circle of
friends in the community. She had attained the remarkable age
of 85 years, 2 months and 15 days. Besides a husband, she leaves
a son, five daughters, seventeen grand-children and eight
great-grandchildren.
The funeral was held Sunday afternoon in the M. E. church
conducted by Reverend Rodabaugh.

The Peru Pointer
Friday
November 18, 1904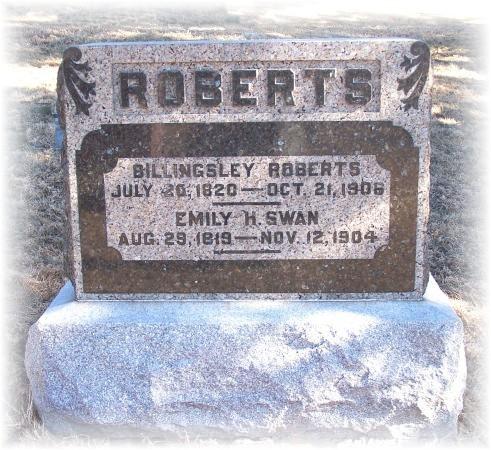 Husband - Billingsley Roberts
Born - Tuesday, July 20, 1820
Boone County, Kentucky


Son - Richard Henry Roberts
Born - Saturday, November 11, 1843
Brookville, Franklin County, Indiana
Daughter - Nancy M. Roberts
Born - 1846
Brookville, Franklin County, Indiana

Daughter - Julia Evelyn (Roberts) Combs
Born - Wednesday, January 12, 1848
Brookville, Franklin County, Indiana

Son - William C. Roberts
Born - 1849
Brookville, Franklin County, Indiana
Daughter - Florence H. (Roberts) Karn
Born - 1854
Cedar Township, Cedar County, Missouri
Husband - Divorced
Daughter - Amanda J. Roberts
"Nettie Roberts"
Born - 1858
Cedar Township, Cedar County, Missouri

Son - Franklin H. Roberts
Born - Sunday, June 20, 1858
Cedar Township, Cedar County, Missouri
Son - Albert E. Roberts
Born - 1860
Cedar Township, Cedar County, Missouri

Daughter - Alice E. (Roberts) South
Born - Thursday, March 8, 1860
Cedar Township, Cedar County, Missouri

Father - Benjamin Swan
Born - December 5, 1791 ۩ Windsor County, Vermont
Married - March 3, 1815
Mother - Philura (Peck) Swan
Born - April 10, 1791 ۩ Windham County, Vermont
Died - 1835 - Indiana

Family Indexes
Home Eltiste Kaiser Rohrs Fink
Family Thumbnail Photo Gallery Index
Last Up-Date 03/15/2011 04:19:43 PM