Eltiste-Kaiser Web Site
---
Adcock Family
Billingsley Roberts
Born - Tuesday, July 20, 1820
Boone County, Kentucky
Married - Sunday, February 19, 1848
Brookville, Franklin County, Indiana
Residence - Monday, July 9, 1860
Cedar Township, Cedar County, Missouri
12 th Kansas Infantry Company H
Residence - Monday, July 11, 1870
Peru Precinct, Nemaha County, Nebraska
Residence - Saturday, June 6, 1885
Peru Precinct, Nemaha County, Nebraska
Residence - Friday, June 15, 1900
Peru Precinct, Nemaha County, Nebraska
Died - Sunday, October 21, 1906
His Home, Nemaha County, Nebraska
Buried -Monday, October 22, 1906
Mount Vernon Cemetery
Peru, Nemaha County, Nebraska
Section-4 Lot-262
86 Years 3 Months 1 Day

Obituary

Billingsley Roberts

Billingsley Roberts, who for over forty years has been a resident of this precinct, and whose serious illness was announced in last weeks Pointer, died at his home west of town, Sunday morning, and the funeral was held at the M.E. Church Monday afternoon, interment being made at the Mt. Vernon Cemetery. The services were conducted by Revered W. A. Tyler.
Mr. Roberts was born in Boone county, Kentucky, July 20, 1820 and at the time of his death was aged 86 years, three months and one day. In 1828 he moved to Brookville, Indiana, where he grew to manhood and was married to Emily H. Swan, February 19, 1848. Nine children were born to this union, four sons and five daughters of whom the daughters and one son are still living. The mother passed to the beyond about two years ago.
In 1849 Mr. Roberts went to California seeking gold, going by the way of the Isthmus and remaining two years. In 1853 he moved to Cedar county in south western Missouri, where he resided eleven years. He cast one of the only two votes for Lincoln in Cedar county. He lost his right arm in guerrilla warfare, in April 1863. A year later he moved to Nebraska, living one summer near Nebraska City. In 1865 he moved to the home place just west of Peru where he has since lived.
Mr. Roberts was always an industrious hardworking man and despite the misfortune of losing an arm, he was able to work his way to comparative wealth by industry and thrift. He was a man respected for his many good qualities, a worthy and upright citizen and in their loss, the relatives find many friends to sympathize with them.

The Peru Pointer
Friday
October 26, 1906



Story By Charles Adcock
"Mother's grandparents lived west of Peru Nebraska. His name was Roberts. They are both buried at Peru. I can only remember visiting them once. When I mentioned this to my mother (Minnie Combs Adcock), she studied a few minutes and seemed to be surprised. Kids remember unusual happenings. I told her he had a full beard and only one arm. I noticed at the table he used only a yellow bone-handled knife and fork combined. When I told Mother this , she verified it and said I was under four years of age. Her grandfather, Mr. Roberts, was English and raised good horses. At the close of the Civil War, several outlaw gangs roved the country, stealing horses, and, mainly the Quantral gang, so I was told, came to Mr. Robert's farm after his horses.
It was and still is, a wooded area. Mr. Roberts was determined to keep his horses, so he got behind a big oak tree, and when one of the outlaws got in sight, he picked him off. The outlaws were also good shots, as when Mr. Roberts had his left arm around a tree, one of them shot him in the arm. As I recall, just below the elbow. However he did save his horses as they were paying too high a price to get them.
From Nadine Fahrlander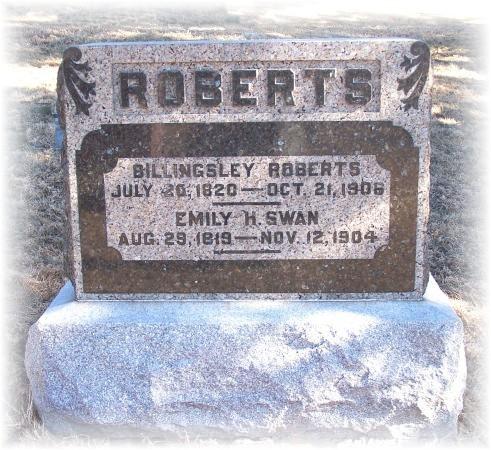 Wife -Emily Helen (Swan) Roberts
Born - Sunday, August 29, 1819
Genesee County, New York


Son - Richard Henry Roberts
Born - Saturday, November 11, 1843
Brookville, Franklin County, Indiana
Daughter - Nancy M. Roberts
Born - 1846
Brookville, Franklin County, Indiana

Daughter - Julia Evelyn (Roberts) Combs
Born - Wednesday, January 12, 1848
Brookville, Franklin County, Indiana

Son - William C. Roberts
Born - 1849
Brookville, Franklin County, Indiana
Daughter - Florence H. (Roberts) Karn
Born - 1854
Cedar Township, Cedar County, Missouri
Husband - Divorced
Daughter - Amanda J. Roberts
"Nettie Roberts"
Born - 1858
Cedar Township, Cedar County, Missouri

Son - Franklin H. Roberts
Born - Sunday, June 20, 1858
Cedar Township, Cedar County, Missouri
Son - Albert E. Roberts
Born - 1860
Cedar Township, Cedar County, Missouri

Daughter - Alice E. (Roberts) South
Born - Thursday, March 8, 1860
Cedar Township, Cedar County, Missouri

Father - Roberts
Mother - Unknown

Family Indexes
Home Eltiste Kaiser Rohrs Fink
Family Thumbnail Photo Gallery Index
Last Up-Date 03/15/2011 04:19:39 PM