Eltiste-Kaiser Web Site
---
Durman Family ~Coat of Arms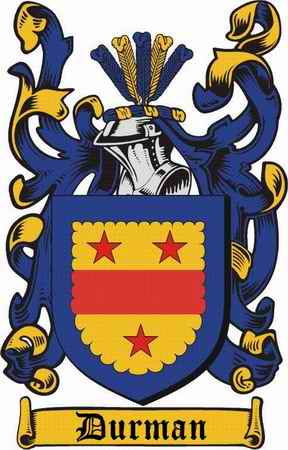 Spelling variations include: Durr, Duerer, Duere, Duerr, Duer, Dur, Durre, Duerre, Dueren, Duerman and many more.
First found in Franconia, where the name Duerer could be considered to make a great early contribution to the feudal society which became the backbone of early development of Europe.
Some of the first settlers of this name or some of its variants were: Alexander Durr, who settled in Philadelphia in 1840; Anderas Durr settled in Philadelphia in 1750; Johannes Balthasar Durr settled in Maryland in 1768.

Durman is the 47,596th Most Popular Name in the United States


Family Indexes
Home Kaiser Eltiste Fink Rohrs
Thumbnail Family Photo Gallery Index
Last Up-Date 12/03/2006 11:14:00 PM