Eltiste-Kaiser Web Site
---
Fink Family
August Michael Mueller
Born - November 15, 1906
Farm Near Stuttgart, Phillips County, Kansas
Married - October 30, 1935
Died - January 23, 1980
Buried - Saturday, January 26, 1980
Fairview Cemetery
Phillipsburg, Phillips County, Kansas
Range-5 Block-5 Lot-9 Space-5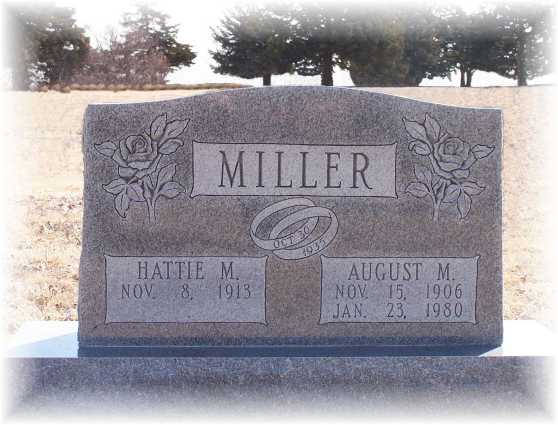 Miller

August Michael Miller passed away January 23, 1980, at the age of 73 years, 2 months and 8 days. He was born on a farm near Stuttgart, Kansas, November 15, 1906, to Edward and Mathilda Pralle Miller.
Here he grew to manhood.
He was baptized and confirmed at Trinity Lutheran Church in Stuttgart and later in life he became a member of the First Presbyterian Church in Phillipsburg, Kansas.
August was a mechanic by trade and was most recently employed at Vogel Implement Company, until his retirement in 1975.
He was united in marriage to Hattie Gackstatter, October 30, 1935. To this marriage was born one son, Larry.
He was preceded in death by his parents and step-mother.
August is survived by his widow, Hattie; son Larry of Wauwatosa, Wisconsin; two grandchildren, Gary and Matthew Miller, Wauwatosa, Wisconsin; one sister, Gertrude (Mrs. Bill) Hart, Lafayette, Colorado;
and one aunt, Frieda (Mrs. Herman) Miller, Phillipsburg.
August will long be remembered by his caring for others.
Memorial services were held Saturday, January 26, at 10:30 a.m. in the Phillipsburg Presbyterian Church with the Rev. Glenn J. Craig officiating. Dorene Mueller and Fred R. Henrichs provided special music, accompanied by Helen Witmer.
Casket bearers were Chris Veh, Ernest Grau, D. T. Broun Jr., Gus Kaiser, Harlan Nonhof and Herbert Mikesell. Interment was in Fairview Cemetery.

CARD OF THANKS
We wish to extend our sincere appreciation for the sympathy and concern shown at the time of the loss of our loved one. The flowers, cards, memorial contributions, food brought in and other thoughtful deeds were truly appreciated and will always be remembered.
The Family of August M. Miller

Phillips County Review
January 31, 1980


Wife - Hattie M. (Gackstatter) Mueller
Born - November 8, 1913

Son - Larry Miller

Adopted Sister- Gertrude (Miller) Widener
Born - 1914 - Kansas

Step-Mother-Elizabeth Barbara (Schauer) Miller
Born - June 8, 1890 - Kansas
Married - August 29, 1923
Died - July1970
Buried - Saint Peter's Lutheran Cemetery
Logan, Phillips County, Kansas

Father - Edward John Mueller
Mother - Mathilda "Tilda" (Pralle) Mueller


Family Indexes
Home Fink Kaiser Eltiste Rohrs
Eltiste Photos Kaiser Photos Rohr Photos Fink Photos
Last Up-Date 05/10/2008 03:04:05 PM