Hoy -Hermenet Web Site
---
Hoy - Kissinger Family

Thomas Harrison Kissinger
Born - October 6, 1888
Lykens Township, Dauphin County, Pennsylvania
Occupation - Coal Miner
Married - February 4, 1911
Reformed Parsonage, Elizabethville,
Dauphin County, Pennsylvania
Veteran of World War 1
Enlisted - 1907
Served - 127th U.S. Army Coast Artillery in Panama
Died - July 25, 1932
Susquehanna Collieries ,Lykens,
Dauphin County, Pennsylvania
Burial - Simeon Union Cemetery, Gratz,
Dauphin County, Pennsylvania
Find A Grave Memorial # 45801777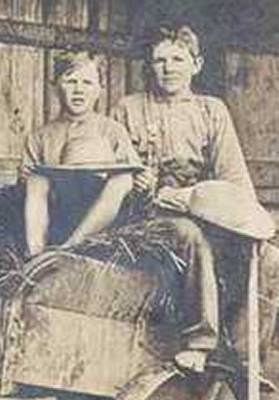 Brothers - Tom & Jacob Kissinger

PROBE DEATH OF LYKENS MINER
An investigation was being conducted today by Deputy Coroner
George Wrenn, of Lykens, into the death of Thomas Kissinger, 43,
of Elizabethville, who, with another miner, was buried beneath a rush
of coal while preparing to cut a pillar at the Susquehanna colliery at
Lykens yesterday. Edward Jury, 60, of Wiconisco, the other miner,
escaped with minor injuries and dug himself out of the coat to go to
the rescue of Kissinger.
Completely buried by the rush of coal, estimated at six mining tons,
Kissinger suffered a broken neck and died almost instantly.
Jury was about waist deep in the coal and managed
to crawl from the shaft before being overcome by gas.
The two miners were placing battery poles on props in preparing to
cut a pillar of coal at No. 4 level, when he accident occurred.
Four other miners, Perry Lynch, of Lykens;
William Straub, of Millersburg;
Joseph Motter, of Wiconisco,
and Motter's helper, summoned by Jury,
worked for an hour to extricate Kissinger.
Sickened by the gas-filled mine, Jury was taken to his home
by his son-in-law, Allen Lentz, brother of County Commissioner,
James E. Lentz.
Kissinger, who was a World War veteran, was a member of the
Gratz Post American Legion. He is survived by his widow,
who was Miss Eva Umholtz, of Gratz;
two sons, Lee and Marion Kissinger, both at home;
a daughter, Mrs. Henry Shadle, of Elizabethville;
five brothers, Edmon of Wiconisco; Daniel, of Loyalton;
Harvey, of Gratz; Jacob, of Arizona,
and Charles, of Michigan;
three sisters, Mrs. Daniel (Sarah) Hoy, of New York;
Mrs. Frank (Mary Ann) Hartman, of Washington,
and Mrs. Leander (Dora) Schaeffer, of Rife; his mother, Mrs. Amanda Kissinger, of Rife, and two grandchildren.

Wife - Eva Edna (Umholtz) Kissinger
Born - September 2, 1889
Lykens Township, Dauphin County, Pennsylvania
Occupations - Homemaker, Laborer, and Retired from the
Naval Supply Service, Mechanicsburg, Pennsylvania
Died - August 17, 1978
Polyclinic Hospital, Harrisburg, Dauphin County, Pennsylvania
Buried - Simeon Union Cemetery, Gratz,
Dauphin County, Pennsylvania
Find A Grave Memorial # 45801824
Eva's Parents - Levi & Anna Maria (Radel) Umholtz

Daughter - Margaret Arlene( Kissinger) Shadle
Born - April 14, 1911
Husband - Henry Veneda Shadle
Son - Levi Jacob (Lee ) Kissinger
Born - September 7, 1912
Dauphin County, Pennsylvania
Died - January 27, 1998
Lykens, Dauphin County, Pennsylvania
Buried - Maple Grove Cemetery, Elizabethville,
Dauphin County, Pennsylvania
Son - Marion Gilbert Kissinger
Born - March 8, 1923
Dauphin County, Pennsylvania
Died - December 12, 1939
Dauphin County, Pennsylvania
Buried - Simeon Union Cemetery, Gratz,
Dauphin County, Pennsylvania

Father - Jacob E. Kissinger
Mother - Amanda (Williard) Kissinger


Family Indexes
Home Hoy Hermenet Boise Shively
Last Up-Date 11/08/2011 03:42:43 PM