Eltiste-Kaiser Web Site
---
Bohling Family
Herman Heinrich Bohling
Born - Thursday, March 27, 1879
Schwalingen, Hanover, Germany
Baptized - Sunday, April 6, 1879
Schwalingen, Hanover, Germany
Confirmed - Friday, March 24, 1893
Arrived - USA - October 1894
Residence - Wednesday, June 13, 1900
Washington Precinct, Nemaha County, Nebraska
Married - Saturday, November 8, 1902
Bride's Home, Nemaha County, Nebraska
Residence - Wednesday, April 9, 1930
Bedford Precinct, Nemaha County, Nebraska
Died - Saturday, August 22, 1959
Auburn, Nemaha County, Nebraska
Buried - Tuesday, August 25, 1959
Saint Paul's Church Cemetery
(Hickory Grove)
Nemaha County, Nebraska
80 Years 4 months 28 Days

Obituary

Herman Heinrich Bohling, son of Heinrich Bohling and Wilhelmine,
nee Witte, was born March 27, 1879 at Schwalingen, Hanover,
Germany.
He passed away Saturday, August 22, at the age of 80 years,
four months and 28 days. The deceased had suffered recurrences
of an ailment which had bothered him for several years.
He received the blessing of holy baptism on April 6, 1879 and
on March 24, 1893 was confirmed in the Lutheran faith at
Schwalingen.
During October of 1894, at the age of 15, he emigrated to America
with Dick Rohrs and William Bohling, Sr. For about five years he
worked at the Dick Rohrs and Conrad Harms, Sr., homes, and the
next three years farmed for himself on the Fred Rohrs farm near
Johnson. During the fall of 1902 he purchased the farm southwest
of Auburn where he spent the remainder of his life.
On November 8, 1902 Pastor Theodore Streng united Herman
H. Bohling in marriage to Ida M. Oestmann at the home of her
father near Saint Paul Lutheran church (Hickory Grove). Their
union was blessed with three children, two daughters and one son.
One child, a girl, was stillborn.
The golden wedding was celebrated in 1952 in the community
building. Another happy occasion was his 80th birthday, when
approximately 100 relatives and friends gathered at the Legion
hall to honor him.
He was preceded in death by his two daughters, Erna, (Mrs. Julius) Meyer who passed away August 20, 1937, and Lila (Mrs. Herman) Meyer, who died on November 26, 1953; also two sisters, Augusta and Ida (Mrs. W. P. Rohrs), and four brothers, August, Fred, Carl and Gustav. His passing is mourned by his beloved wife and one son, Alvin F. Bohling, and wife, Lorene, of near Auburn; two sons-in-law, Julius H. Meyer and Herman G. Meyer of near Auburn; grandchildren, Betty, Ruth, Roland and Roger Meyer, and Gerald and Herald Bohling, all of near Auburn; and Mrs. Donna Monnette of Humboldt; two brothers, 90 year old Wilhelm Bohling in Germany, and Henry Bohling of Columbia, South Dakota; four brothers-in-law, Fred H. Oestmann of near Auburn, and William Oestmann, John D. Schlange of Auburn, and W. P. Rohrs of San Diego, California, four sisters-in-law, Mrs. Marie Bohling, Germany; Mrs. Augusta Bohling, Johnson, Mrs. Emma Oestmann, Johnson, and Mrs. Henry Bohling, Columbia, South Dakota, and his host of nephews, nieces and friends.
Funeral services were held on August 25, at 2 p.m., at Saint Paul
(Hickory Grove) Lutheran church with Reverend H. A. Kolm officiating.
Casket bearers were August W. Bohling, Gustav H. C. Bohling,
Otto Bohling, Elmer Bohling, Harvey Bohling, and Otto Rohrs.
Assisting with the flowers were Miss Ella Bohling and Mrs. Arnold
Harms. Music was furnished by the church choir, directed by Alvin
Remmers, Mrs. Alvin Remmers was organist.
Interment was in the Saint Paul Lutheran cemetery. Caseys were
in charge of the funeral arrangements.
Those from out of town attending the funeral were: Mr. and Mrs.
Ben Ray, Oklahoma City; Mr. and Mrs. Henry Bohling, Mr. and
Mrs. Ray Podoll, Mr. and Mrs. Adolf Bohling, Harvey Bohling,
and Mrs. Albert Podoll of Columbia, South Dakota; Mr. and Mrs.
Arthur Zabel, Athol, Kansas; Mr. and Mrs. Otto Zabel and Miss
Hulda Zabel, Smith Center, Kansas; Mr. and Mrs. Otto Meyer,
Gaylord, Kansas, Mr. and Mrs. Leonard Brendemuhl, Chester,
Nebraska; Mr. and Mrs. Richard Fangmeier, Hebron; Mrs. Art
Meyer, Deshler, Mrs. Kenneth Schmidt, Lincoln; Reverend and
Mrs. H. C. Wienke, De-Witt: Mrs. Emma Todter, Mr. and Mrs.
August Bohling and Mr. and Mrs. Gustav Bohling, Tecumseh;
and Mr. and Mrs. Ray Monnette, Humboldt.

Auburn Press Tribune
Tuesday
September 1, 1959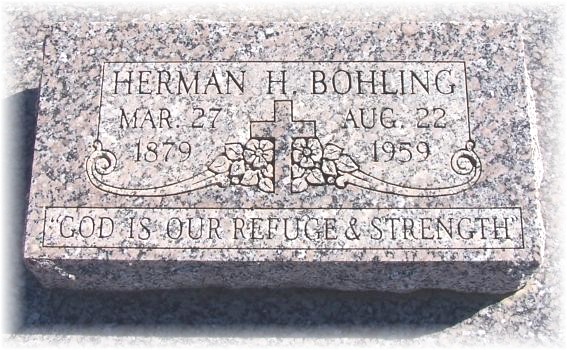 Wife - Ida Maria Sophia (Oestmann) Bohling
Born - Friday, July 21, 1882
Nemaha County, Nebraska
Died - Sunday, July 3, 1966
Johnson, Nemaha County, Nebraska
Buried - Saint Paul's Church Cemetery
(Hickory Grove)
Nemaha County, Nebraska
83 Years 10 Months 13Days

Daughter - Infant
Born - March 11, 1904 - Nemaha County, Nebraska
Died - March 11, 1904 - Nemaha County, Nebraska
Buried - Saint Paul Lutheran Church Cemetery
(Hickory Grove)
Nemaha County, Nebraska
Daughter - Erna Anna Wilhelmina (Bohling) Meyer
Erna Anna Wilhelmina Sophia Bohling
Born - Sunday, March 19, 1905
Nemaha County, Nebraska
Husband - Julius Herman Meyer
Born - October 27, 1898 ۩ Nemaha County, Nebraska
Daughter - Lila Anna Ida (Bohling) Meyer
Born - November 22, 1907
Nemaha County, Nebraska
Married - November 28, 1932
Saint Paul Lutheran Church
(Hickory Grove)
Nemaha County, Nebraska
Died - November 26, 1953
Omaha, Douglas County, Nebraska
Buried - Saint John's (Stone) Lutheran Cemetery
Nemaha County, Nebraska
Husband - Herman George Meyer
Born - May 4, 1901 ۩ Nemaha County, Nebraska
Baptized - June 2, 1901 - Saint John's (Stone) Lutheran Church
Died - June 4, 1981
Methodist Hospital, Omaha, Douglas County, Nebraska
Buried - Saint John's (Stone) Lutheran Cemetery
Nemaha County, Nebraska
Son - Alvin Heinrich Friederich Johann Bohling
Born - Friday, August 13, 1909
Nemaha County, Nebraska
Baptized - Friday, August 27, 1909
Saint Paul Lutheran Church
(Hickory Grove)
Nemaha County, Nebraska
Married - Friday, October 12, 1934
Saint Paul Lutheran Church
(Hickory Grove)
Nemaha County, Nebraska
Died - Friday, September 5, 1986
Clarkson Hospital, Omaha, Douglas County, Nebraska
Buried - Saint Paul Lutheran Church Cemetery
(Hickory Grove)
Nemaha County, Nebraska
Wife - Lorene Emma Marie (Bergmann) Bohling
Born - November 17, 1914 ۩ Nemaha County, Nebraska
Died - September 23, 1987
Nemaha County Good Samaritan Center, Nemaha County, Nebraska
Buried - September 26, 1987
Buried - Saint Paul Lutheran Church Cemetery
(Hickory Grove)
Nemaha County, Nebraska
Father - George August Friederich Bergmann
Mother - Louise Marie Sophia (Beermann) Bergmann

Brother - Heinrich Wilhelm Bohling
Born - January 25, 1869 - Germany
Wife - Marie Bohling
Brother - H. Friedrich Hermann Bohling
Born - March 7, 1874 - Germany
Married - September 22, 1899
Saint Paul Lutheran Church
(Hickory Grove)
Nemaha County, Nebraska
Died - March 21, 1942
Auburn, Nemaha County, Nebraska
Buried - Hickory Grove Cemetery,
Nemaha County, Nebraska
Wife - Wilhelmina "Mina" Rohrs
Born - May 17, 1879
Died - December 6, 1954
Nemaha County, Nebraska
Buried - Hickory Grove Cemetery,
Nemaha County, Nebraska
Brother - Ernst August Bohling
Born - August 8, 1876 - Germany
Brother - Carl Heinrich Bohling
Born -October 24, 1882
Schwalingen, Hanover, Germany
Died - September 14, 1950
Johnson, Nemaha County, Nebraska
Buried - Martin Luther Cemetery
Nemaha County, Nebraska
Wife - Augusta E. (Bohling) Bohling
Born - November 1, 1889
Brother - Gustav Adolf Bohling
Born - February 17, 1885
Schwalingen, Hanover, Germany
Died -
Wife - Emma Bohling
Born - 1891 - Nebraska
Brother - Henry Karl Bohling
Born - October 5, 1888
Schwalingen, Hanover, Germany
Married - November 5, 1920
Columbia, Brown County, South Dakota
Died - October 24, 1987
Aberdeen, Brown County, South Dakota
Wife - Freda (Lunzmann) Bohling
Born - 1902 - Nebraska
Parents - William & Mary Lunzmann
Sister - Ida (Bohling) Rohrs
Born - December 29, 1891
Schwalingen, Hanover, Germany
Married - January 20, 1911
Died - January 15, 1922
Johnson, Nemaha County, Nebraska
Saint Paul Lutheran Church Cemetery
(Hickory Grove)
Nemaha County, Nebraska
Husband - Wilhelm Paul Rohrs
Born - July 23, 1887
Died - September 26, 1968 - Nebraska
Buried - September 29, 1968
Saint Paul Lutheran Church Cemetery
(Hickory Grove)
Nemaha County, Nebraska
2nd Wife - Emilie Johanne (Mohrman) Rohrs
3rd Wife - Martha Dora (Bohling) Rohrs
Born - September 14, 1907 ۩ Died - January 18, 1981


Father - Heinrich Christoph Bohling
Born - November 19, 1843 ۩ Died - November 16, 1922
Mother - Anna Wilhelmine (Witt) Bohling
Born - April 17, 1848 ۩ Died - May 30, 1903


Family Indexes
Home Eltiste Kaiser Rohrs Fink
Family Thumbnail Photo Gallery Index
Last Up-Date 06/15/2011 12:09:15 AM