Eltiste-Kaiser Web Site
---
Bohling Family ~Coat of Arms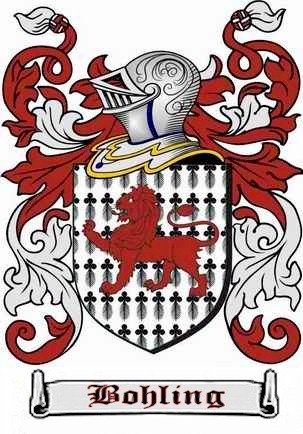 Wilhelmine Emile Elizabeth (Eltiste) Bohling
Elizabeth Bohling
Spelling variations include: Boel, Boell, Boeler, Boelert, Bohlen, Bohllen, Boehlen, Boehl, Boehler, Boehlert, Boehling, Boehllen, Bolen, Boelen, Boelens, Boellner, Boellsch, Bollen, Boellen, Bohl, Bole, Bohlens, Bolin, Bohlin, Bohll, Bohell and many more.
First found in Mecklenburg, where chronicles first mention Bole von Malchow of Rostock in Mecklenburg in the year 1298.
Some of the first settlers of this name or some of its variants were: Sego Boell, who arrived in Virginia in 1654; Martin Boeler who was recorded as having arrived in Pennsylvania in 1751; Conrad Bohl, who arrived in Philadelphia in 1754.

Bohling is the 22,445th Most Popular Name in the United States



Family Indexes
Home Kaiser Eltiste Fink Rohrs
Thumbnail Family Photo Gallery Index
Last Up-Date 11/26/2010 10:58:30 PM