Eltiste-Kaiser Web Site
---
Bohling Family
Augusta Elizabeth (Bohling) Bohling
Baptismal name - Emma Elise Augusta Bohling
Born - Friday, November 1, 1889 - Nebraska
Baptized - Sunday, December 1, 1889
Saint Paul Hickory Grove Church
Confirmed - Sunday, April 19, 1903
Saint Paul Hickory Grove Church
Married - Friday, February 10, 1911
Saint Paul's (Hickory Grove) Church
Died - Friday, February 24, 1978
Good Samaritan Home
Auburn, Nemaha County, Nebraska
Buried - Monday, February 27, 1978
Martin Luther Cemetery
Nemaha County, Nebraska
88 Years 2 Months 23 Days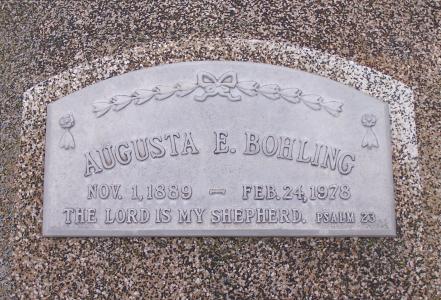 Obituary

MRS. CARL BOHLING

Augusta Elizabeth Bohling, daughter of Fred and Anna Baden Bohling,
was born November 1, 1889 on a farm in Nemaha county,
one of seven children.
She was baptized December 1, 1889 at St. Paul (Hickory Grove) Lutheran
church and was confirmed at that church April 19, 1903.
She attended Linden rural School.
February 10, 1911 she was married to Carl H. Bohling at Hickory
Grove church. Four children were born to this marriage.
She and Carl lived on a farm in the Hickory Grove community
until 1930 when they moved to a farm a mile west of Martin
Luther church.
They became members of Martin Luther church and she was
active in the church and the women's group.
In 1947 they moved to Johnson. On September 14, 1950,
Mr. Bohling passed away. The fall of 1970 she moved into the
Hoover rest home in Auburn, later to the Maple Grove home in
Tecumseh, and then to the Good Samaritan Home in Auburn
where she died February 24, 1978. She had reached the age of
88 years, three months and 23 days.
In addition to her husband, she was preceded in death by her
parents, one son, one daughter, three brothers and three sisters.
Surviving are her son, Otto Bohling of Auburn; daughter,
Mrs. Melvin Ottemann of Elk Creek; daughter-in-law, Mrs.
Bernice Rodie of Lincoln; nine grandchildren;
14 great-grandchildren; other relatives and friends.
Services were held February 27 at Martin Luther church,
conducted by Reverend Lowell Asplund.
Casket bearers were grandsons, Alan Schmid, Gary Bohling,
Gene Bohling, Gale Bohling, Gred Bohling and Kenneth Oestmann.
Mrs. Bruce Davis was organist and Mrs. Edna Moore and
Mrs. Nora Rockemann assisted with flowers..
A quartette sang songs.
Burial was in Martin Luther cemetery.

Nemaha County Herald
Thursday
March 14, 1978



Husband - Carl Heinrich Bohling
Born -Tuesday, October 24, 1882
Schwalingen, Germany
Died - Thursday, September 14, 1950
Johnson, Nemaha County, Nebraska
Buried - Monday, September 18, 1950
Martin Luther Cemetery
Nemaha County, Nebraska
67 Years 11 Months 21 Days
Father - Heinrich Bohling
Mother - Wilhelmine (Witt) Bohling
Brother - Herman Heinrich Bohling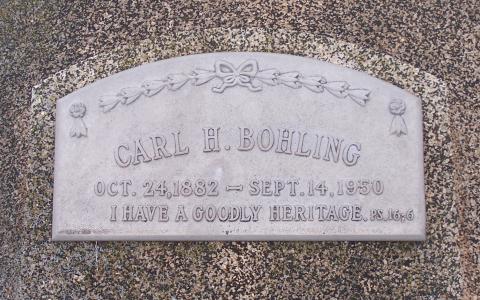 Obituary

FINAL CALL FOR
C. H. BOHLING

Carl Henry Bohling, son of Mr. and Mrs. Henry Bohling, was born,
October 24, 1882, in Schwalingen, Hanover, Germany.
In infancy he was baptized and confirmed in the Lutheran
faith, April 15, 1897 by Reverend Wittkoff.
In 1901, he with his brother, Gustav, came to America. They
made their home with their brother, Herman, who resided
southwest of Auburn. Until 1911 he worked upon several
farms in the county.
On February 10, 1911 he was united in marriage to
Miss Augusta Bohling. The wedding ceremony was performed
by the late Reverend Streng. To this union were born four children,
two sons and two daughters, one daughter, Anna,
passed away December 5, 1925.
Following marriage the Bohlings resided on farms south of Auburn
until 1930 when they purchased a farm. This farm is located
one and 1/4 miles south of the Martin Luther church.
In December of 1945 Mr. Bohling became seriously ill and was
hospitalized for seven weeks. Because of his failing health,
the family purchased a home in Johnson in 1947 which has since
been their residence.
Mr. Bohling has been in declining health since December 28,
1949, when he submitted to a major operation in an Omaha hospital.
He suffered a heart attack last Thursday which resulted in death.
He had reached the age of 67 years, 10 months and 21 days.
The deceased was a successful farmer and highly respected
citizen of his community, as well as a faithful member of the
Martin Luther church congregation.
In passing he leaves to mourn him, his wife, two sons, Otto,
Auburn; Carl Jr., Johnson' one daughter, Mrs. Mervin Ottemann,
Elk Creek; six grandchildren; four brothers, William, Germany;
Henry and Gustave, in Columbia, South Dakota; Herman of Auburn.
Funeral services were held Monday, September 18, with a family
prayer at the Casey funeral home in Auburn at 1:15, followed by
services at the Martin Luther church south of Johnson at
2:00 p.m., with Rev. William Frizehling, officiating. Music
for the services was furnished by a male quartet with Mrs.
Erma Eden, accompanist.
Pallbearers were; Gustav H. C. Bohling, Alvin F. Bohling,
Otto Rohrs, Elmer Bohling, August Bohling, Harvey Bohling.
Those in charge of the flowers; Miss Ella Bohling, and Mrs.
Vera Gerdes.
Interment was made in the Martin Luther cemetery with
Casey funeral home in charge of arrangements.

Nemaha County Herald
Tuesday
September 21, 1950



Son - Otto F. Bohling
Born - Friday, May 16, 1913 - Nebraska
Daughter - Anna I. Bohling
Died -1917- Nemaha County, Nebraska
Died -1925 - Nemaha County, Nebraska
Buried - Saint Paul's Lutheran Church Cemetery
(Hickory Grove)
Nemaha County, Nebraska

Son - Carl Bohling
Born - Wednesday, July 13,1921 - Nebraska
Daughter - Lella Bohling
Born -1925 - Nebraska

Sister - Anna (Bohling) Oestmann
Born - Friday, February 1, 1878
Schwalingen, Hanover, Germany

Brother - Frederich Heinrich Dietrich Bohling
Fred "Feeddie Feeddie" Bohling
Born - Tuesday, November 25, 1879
Schwalingen, Hanover, Germany
Brother - Wilhelm Friedrich Bohling
Born - Sunday, April 13, 1884
Nemaha County, Nebraska
Died - Wednesday, April 22, 1885
Nemaha County, Nebraska
Buried - Saint Paul's Cemetery
(Hickory Grove)
Nemaha County, Nebraska
1 Year 9 Days
Brother - Infant Baby
Born - April 29, 1886 ۩ Died - April 29, 1886
Nemaha County, Nebraska
Buried - Saint Paul's Cemetery
(Hickory Grove)
Nemaha County, Nebraska

Sister - Emma (Bohling) Oestmann
Born - Saturday, April 9, 1887
Nemaha County, Nebraska

Sister - Christine "Mary" (Bohling) Bohling
Born - Wednesday, August 31, 1892
Nemaha County, Nebraska


Father - Frederich Heinrich Bohling

Mother - Anna Katherina (Baden) Bohling


Family Indexes
Home Eltiste Kaiser Rohrs Fink
Family Thumbnail Photo Gallery Index
Last Up-Date 03/07/2011 12:24:45 PM