Eltiste-Kaiser Web Site
---
Wild Family ~Coat of Arms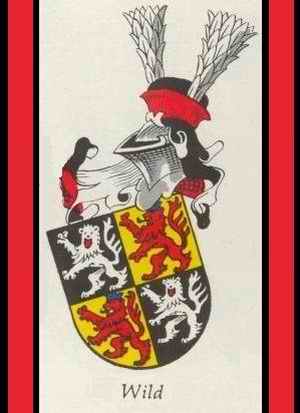 Spelling variations include: Wilder, Wildt, Wilde, Wild, Wilt, Wildter and others.
First found in Bavaria, where the name contributed greatly to the development of an emerging nation that would later play an important role in the tribal and national conflicts of the area.
Some of the first settlers of this name or some of its variants were: Hans Martin Wilder, who came to Philadelphia in 1727, as well as Hans Adam Wilder at the same time; Valentin Wild arrived in Philadelphia in 1732, Franz Wild came to Carolina in 1780, and Gotleib Wilhelm Wilder came to Philadelphia in 1860.

Wild is the 3,921st Most Popular Name in the United States


Family Indexes
Home Eltiste Kaiser Rohrs Fink
Eltiste Photos Kaiser Photos Rohr Photos Fink Photos
Last Up-Date 11/26/2006 07:01:59 PM