Eltiste-Kaiser Web Site
---
Eltiste Family
George W. Wallenberg
Born - September 15, 1907
Phillipsburg, Phillips County, Kansas
Residence - 1910 - Hanover, WashingtonCounty, Kansas
Married - September 1, 1949
Red Cloud, Webster County, Nebraska
Died - December 6, 1990
Fairfield, Clay County, Nebraska
Buried - Fairfield Cemetery
Fairfield, Clay County, Nebraska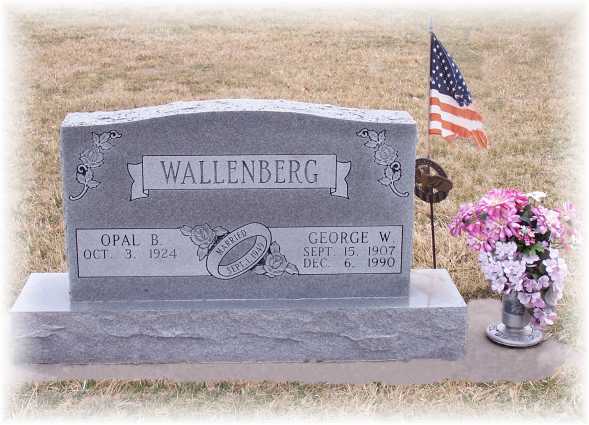 George Wallenberg

FAIRFIELD - George W. Wallenberg, 83, of Fairfield died Thursday,
December 6, 1990, at Saint Joseph Hospital in Omaha.
Memorial services will be at 2 p.m., Monday at the
McLaughlin Funeral Chapel in Clay Center with the
Reverend Donald Burkum officiating.
Burial will be in the Fairfield Cemetery with military rites by the
American Legion Post 256 of Fairfield and the VFW Post No. 10045
of Deweese.
Mr. Wallenberg was born September 15, 1907, at Phillipsburg, Kansas, and moved to Deweese at age 5. In 1914, he moved to Fairfield. He attended school in Fairfield and Deweese and served three years in the Army during World War II. On September 1, 1949, he married Miss Opal Bell Watts in Red Cloud. They lived in Fairfield.
He was employed 41-1/2 years as a trackman for the Union Pacific
Railroad before retiring in 1972. For several years, he managed the Fairfield Legion Club.
Mr. Wallenberg was a member of the American Legion Post No.256 of Fairfield, the VFW Post No. 10045 of Deweese, Brotherhood Ways of Maintenance and the Union Pacific United Employees Club.
He is survived by his wife, Opal, of Fairfield.
Memorials may be given to the family.

The Hastings Tribune
Saturday
December 8, 1990

Wife -Opal B. (Watts) Wallenberg
Born -October 3, 1924

Sister - Clara Alvina (Wallenberg) Shaw
Born - December 17, 1900
Brother - Carl Wallenberg
Born - November 8, 1903
Phillipsburg, Phillips County, Kansas
Married - May 31, 1930
First Baptist Church
San Diego, California
Died - June 20, 1971 - Massachusetts
Buried - Somerville, Middlesex County, Massachusetts
Wife -Ora (Schurman) Wallenberg
Born - August 3, 1909 - Massachusetts
Died - November 30, 2002 - Plymouth, Massachusetts

Brother - William August Wallenberg
"Bill Wallenberg"
Born - April 1, 1906
Phillipsburg, Phillips County, Kansas
Died - August, 21 1985
Buried - August, 24,1985
Fairfield Cemetery, Clay County, Nebraska

Sister - Fern (Wallenberg) Hoyt
Born - January 3, 1913
Sister - Corinne (Wallenberg) Potts
Born - March 14, 1915

Sister - Avis (Wallenberg) Woods
Born - September 17, 1917

Father - William Henry Wallenberg

Mother - Christina (Muller) Wallenberg


Family Indexes
Home Eltiste Kaiser Fink Rohrs
Family Thumbnail Photo Gallery Index
Last Up-Date 09/27/2010 03:47:44 PM