Eltiste-Kaiser Web Site
---
Brush Family
Major Josephus Wilson Brush
Born - Saturday, November 18,1820
Fairfax, Franklin County, Vermont
Residence - Saturday, June 12, 1880
London Precinct, Nemaha County, Nebraska
Residence - Saturday, June 2, 1900
Auburn, Nemaha County, Nebraska
Died - Sunday, August 13, 1911 - Nebraska
Nemaha County, Nebraska
Buried - Tuesday, August 15, 1911
London Cemetery
Nemaha County, Nebraska
Section-1 Plot-94



Joseph W. Brush


Age 90 - 90Years 6Months 2Days
Held Rank of Major


MAJOR BRUSH WHO FOUGHT
UNDER TWO FLAGS IN
THREE WARS IS DEAD



Joseph W. Brush, pioneer and soldier, and is one of the unique figures of the county died at his home in this city, August 13, 1911. At the great age of ninety years, six months and two days.
Mr. Brush was a veteran of the Mexican war, one of the California Argonauts, a soldier of the civil war, and a pioneer of Nebraska.
The deceased was born at Fairfax, Vermont, February 11, 1820. He was married to his first wife, Adeline Sattuck, April 3, 1842. She died March 8, 1846. He was married the second time to Clarice Jane Curtis, October 12, 1854. To the first union was born Mary Ann Brush and to the second union eleven children, namely Doris E. Brush, who now lives in Texas; Anderson P. Brush, of Glenrock; Brown Lee Brush, deceased; Thomas Brush, deceased; Jay H. Brush, deceased; Thomas Brush, of California, Charles J. Brush. Auburn; Mrs. Emma Holloway. Mrs. Sarah Adcock, dead. Mrs. Anna Lorance, Omaha; Mrs. Nellie Porter, Table Rock; Clarisa Brush, dead.
The life of Major Brush, which spanned nearly a century. was a most eventful one. In his youth he entered a woolen factory in Toronto, Canada, where he worked for some time. He was a member of a military band when the Canadian Insurrection occurred in 1837-8 and was in the engagement known as the battle of the windmills, at the outlet of Lake Champlain. In this war Canada tried to get rid of English rule.
In 1841, with eight other young men he went to Fort Wayne, Indiana, to install a woolen factory. At the time Ft. Wayne was an important trading post for the Pottawatomie Indians. Col. Winfield Scott was in command of the post at the time, Mr. Brush joined the command of Col. Scott in 1848 and he helped to move the Indians. 1.500 strong to their new reservation beyond the Missouri river. On the first of October of that year he with 500 other soldiers and the band of Indians arrived at Nebraska City, which was then Ft. Kearney. The first camp was on the farm owned by J. Sterling Morton and Major Brush killed a buffalo near the mouth of the creek on that farm. Afterwards camps were made at Camp Creek, Glenrock, and Pawnee City. Elk and buffalo were plentiful in the county at the time.
He mustered out, In the spring of the following year and he returned to his home in Vermont. He told stories of the wonderfully fertile land of the west and urged people to go out and settle there. Finally his father warned him to quit as he would get the reputation of being the biggest liar on earth.
When James K. Polk issued his call for 50,000 troops to fight Mexico. Major Brush again enlisted to the army. He was a member of the army of the West and was with it when it was assembled at Ft. Leavenworth. He was mustered in at New York City, and was a member of the 2nd Indiana infantry. He took part In the battles of Buena Vista. Vera Cruz and Cerro Gordo. He served in this war three years and fifteen days.
In 1850, with a wagon train of fifty vehicles, he again visited Nebraska. He was with a party of gold seekers that were on their way overland to California. He tried mining Sutter's mills, where gold was first discovered and afterwards kept a hotel at Sacramento. He had as borders at his place such well-known Nebraska pioneers as Patrick Daugherty, of South Auburn, Dr. H. L. Matthews who died a few years ago; Jesse Cole. Sr., and his two sons, John and Jesse, Jr., and a man named Robinson, who afterwards kept the American house at Brownville.
The major enlisted in the army again at the outbreak of the Civil War and was in a number of sharp engagements and battles. He came to this county in 1865, at the conclusion of the civil war and was for years one of the most highly respected citizen. He first located in London precinct. A number of years ago he came to Auburn and on every Fourth of July, and on Decoration day for years and years, until he finally became incapacitated, he played the drum while William Paris played the fife.
Among the other things that distinguished Major Brush, was the fact that he was undoubtedly the oldest Mason in the state. He joined the organization when he was twenty-one years of age and was a member of the order for 69 years. He was initiated in the historic Vergennes lodge, at Vergennes, Vermont.
Major Brush was a man of the strongest character. He was a true patriot, honest and upright in everything that he did. He was a member of the M. E. church. The funeral took place Tuesday morning and was very largely attended. The interment was in the family plot in London cemetery where the major lived for so many years.
The bereaved relatives and family have the sincere sympathy of the entire community

Nemaha County Republican
Friday
August 18, 1911


1stWife - Adeline (Sattuck) Brush
Married - April 3, 1842
Died - March 8, 1846
Daughter - Mary Ann Brush

2dWife - Clarissa Jane (Curtis) Brush
Born - September 14, 1832 - Canada
Married - October 12, 1852
Died - Sunday, April 21, 1912
Her Home, Auburn, Nemaha County, Nebraska
Buried - Tuesday, April 23,1912
London Cemetery
Nemaha County, Nebraska
Section-1 Plot-94

Another Aged Lady Called To Reward

Mrs. J. W. Brush Passed Away
Last Sunday

Was a Long Time Resident of This Community and
Hers Was a Splendid Type of Christian Character
All Children Present

.
Mrs. J. W. Brush, who died at her home in this city last Sunday,
had reached the age of eighty years, seven months and seven days.
For some time Mrs. Brush had been gradually failing, and while
her death was not unexpected, it brought sorrow to her many friends.
Clarissa Jane Curtis was born in Canada September 14, 1832.
She was married October 12, 1852. While yet a young man and
a young woman this couple came to Nebraska and located in
Nemaha county. The aged husband passed away about a year ago.
During a residence in this county that covered a period of many
years the deceased formed a wide acquaintance. By those who
knew her best she was regarded as a woman of the most
exemplary type. She united with the Methodist church many
years ago and had lived a consistent Christian life, keeping
the faith in all things.
Mrs. Brush was the mother of eleven children, seven of whom are
living and they are: Dores Brush, of Texas; Anderson Brush of
Glenrock; Jay Brush, whose home is in California; Charles Brush
of Peru; Emma Holloway of Auburn; Anna Lorance of Omaha
and Nellie Porter of Table Rock. She also leaves nine-grandchildren,
two great-grandchildren and one brother, H. M. Curtis. All of her
children were present to care for her and comfort her during the
last illness. In addition too her own sons and daughters there was
also a grand-daughter, Dora Adcock, whom she had raised, who
was with her at the time of her death.
The funeral was held from the family home on Tuesday afternoon
and there were a number of friends of the deceased and of the family
present when the solemn services were performed by
Reverend Pearson of the Auburn M.E. Church. After the services
the remains wee taken to London cemetery for interment beside
those of her husband.

Nemaha County Herald
Friday
April 26, 1912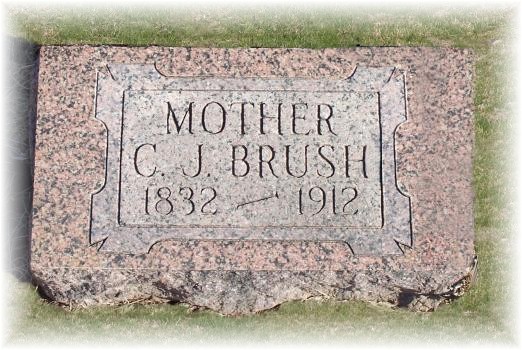 Son - Dores E. Brush
Born - July 4, 1855
Fairfax, Franklin County, Vermont

Son - Anderson P. Brush
Born - December 8, 1857
Lee County, Iowa
Son - Brown Lee Brush
Born - 1858 - Lee County, Iowa
Son - Thomas Brush
Son - Jay H. Brush
Born - 1861 - Lee County, Iowa
1930 Census - April 11, 1930
Transient - Occupation - Cook
Sacramento, Sacramento County, California
Son -Charles J. Brush
Born - Saturday, February 22,1862
Lee County, Iowa
Daughter - Emma Adline (Brush) Holloway
Born - April 1864 - Nebraska

Daughter - Sarah M. (Brush) Adcock
Born - November 7, 1867
Daughter - Anna Laura (Brush) Lorance -Cafferty
Born - 1868 - Nebraska
Married - August 20, 1890- Nebraska
Husband - Edward Lorance
Born - 1869 - Nebraska
Daughter - Nellie Ellen (Brush) Porter
Born - April 7, 1871
London Precinct, Nemaha County, Nebraska
Daughter - Clarisa J. Brush
Born - Tuesday, February 11, 1873
Died - Monday, January 22, 1877
Buried - London Cemetery
Nemaha County, Nebraska
Section-1 Plot-94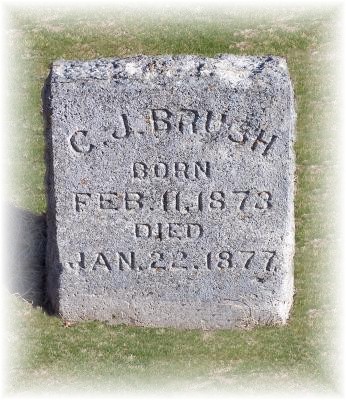 Sister - Maria Adeline (Brush) Smith
Born - January 9, 1810
Died - October 5, 1881
Husband - John Gale Smith
Born - March 23, 1807
Brother - Happy Brush
Born - August 22, 1815

Sister - Harriet S. Brush
Born - February 5, 1817
Died - March 13, 1833
Buried - Fairfax Plains Cemetery
Fairfax, Franklin County, Vermont
Brother - Dr. Alonz Green Brush
Born - March 15, 1819 - Vermont
Died -March 26, 1906
Fairfax, Franklin County, Vermont
Buried - Fairfax Plains Cemetery
Fairfax, Franklin County, Vermont
1stWife - Sophia M. (Soule) Brush
Born -1819 ۩ Died -1857
Buried - Fairfax Plains Cemetery - Fairfax, Franklin County, Vermont
2ndWife - Zernah L. (Bradley) Brush
Born -1830 ۩ Died -1873
Buried - Fairfax Plains Cemetery - Fairfax, Franklin County,

Brother - Joshua N. Brush
Born - Monday, June 9, 1823
Fairfax, Franklin County, Vermont
Sister - Phidela Brush
Born - May 22, 1825
Sister - Elvira (Brush) Bell
Born - January 12, 1828
Fairfax, Franklin County, Vermont
Died - January 24, 1924
Chittenden, Rutland County, Vermont
Buried - Fairfax Plains Cemetery
Fairfax, Franklin County, Vermont
Husband - Benjamin J. Bell
Born -1817 ۩ Died -1899
Buried - Fairfax Plains Cemetery
Fairfax, Franklin County, Vermont
Sister - Sarah Brush
Born - June 24, 1831


Father - Captain Joshua Brush
Born -October 11, 1785
Mother - Sarah Maretta (Eldredge) Brush
Born -May 16, 1789

Family Indexes
Home Eltiste Kaiser Rohrs Fink
Family Thumbnail Photo Gallery Index
Last Up-Date 03/25/2011 08:35:33 AM