Eltiste-Kaiser Web Site
---
Torbeck Family
Augusta (Torbeck) Schleufer
Born - Tuesday, December 6, 1887
Nemaha County, Nebraska
Married - Friday, April 23, 1909
Saint John's Lutheran Church
(Stone Church)
Nemaha County, Nebraska
Died - Friday, November 10, 1972
Good Samaritan Home
Superior, Nuckolls County, Nebraska
Buried - Tuesday, November 14, 1972
Salem Cemetery
Nuckolls County, Nebraska


Augusta Schleufer

Funeral services for Mrs. Henry Schleufer, 84, were
Tuesday, November 14, 1972 at the Salem Lutheran Church south of Nelson. The Rev. George Feistner officiated and burial was in the Salem Cemetery. The Megrue-Price Mortuary was in charge.
Mrs. Schleufer, a native of Nebraska who lived most of her life in the Nora-Superior area, died Friday in Superior.
Surviving are her husband, Henry; two daughters, Mrs. Milo Way of Superior and Mrs. Norma Hastriter of Napa, Idaho; a son, Lester of Nora; a brother, Dick Torbeck of Lincoln; three sisters, Mrs. Emma Oestmann and Mrs. Ann Kienker, both of Johnson and Mrs. Dora Harms of Deshler; 11 grandchildren and 16 great grandchildren.
The Nelson Gazette
Thursday, November 23, 1972



We are gathered this afternoon to receive the comfort and consolation of God's word as we hold in loving memory Augusta Torbeck Schleufer, daughter of Reiner Torbeck and Christena Dirks Torbeck, born on December 6, 1887 on a farm in the Auburn, Nebraska vicinity. She was one of eleven children.
On March 4, 1888 she was baptized at the Febing Methodist Church near Auburn. Following instructions in God's word she confessed and confirmed her faith on March 23, 1902 at St. John Lutheran Church, Route 1, Auburn, Nebraska (the old Stone Church).
On April 23, 1909 Augusta was united in marriage to Mr. J. Henry Schleufer at St. John's Lutheran Church (the Stone Church) Route 1, Auburn, Nebraska. To this union, three sons and three daughters were born. God in His Grace permitted this marriage to continue for over 63 tears.
In 1916 the Schleufers were living in the Nora area and transferred their church membership to Salem Lutheran, Rt. 2, Superior. They have continued as faithful members of the congregation. Mrs. Schleufer was also an active member of Circle I or Ladies Aid Group. She was a kind and loving wife and mother.
According to God's wisdom and knowledge He called her from this earthly sojourn at the Good Samaritan Home in Superior on November 10, 1972 at the age of 84 years, 11 months and 4 days.
Her parents, 2 sons, Walter and Elmer and a daughter, Leona preceded her in death.
Survivors are her husband, Henry; one son, Lester of Nora; two daughters, Edna, Mrs. Milo Way of Superior and Mrs. Norma Hastriter of Nampa, Idaho; one brother, Richard Torbeck of Lincoln, Nebraska; 3 sisters, Dora, Mrs. Otto Harms of Deshler, Mrs. Anna Kienker and Mrs. Emma Oestmann of Johnson; 11 grandchildren and 17 great grandchildren and a host of relatives and friends.
Funeral services were held on Tuesday, November 14th at the Salem Lutheran Church and Reverend George Feistner officiated. Burial was in the Salem Church Cemetery. The Megrue-Price Funeral Home of Superior was in charge of the arrangements.


The Nelson Gazette
Thursday, November 23, 1972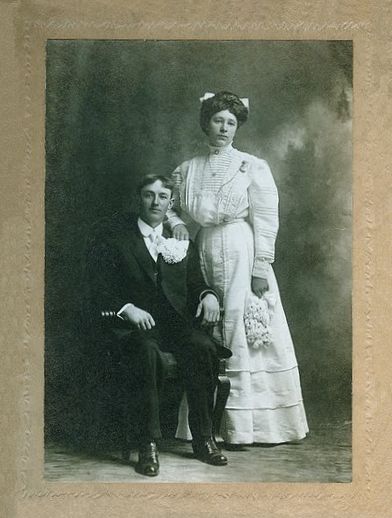 Henry & Augusta (Torbeck) Schleufer

Husband - Henry John Schleufer
Born - Tuesday, February 23, 1886
Nemaha County, Nebraska
Baptized - Tuesday, March 23, 1886
Saint John's Lutheran Church
(Stone Church)
Nemaha County, Nebraska
Confirmed - Sunday, April 8, 1900
Saint John's Lutheran Church
(Stone Church)
Nemaha County, Nebraska
Died - Friday, August 14, 1981
Buried - Salem Cemetery
Nuckolls County, Nebraska
Father - Heinrich Schleufer
Mother - Sophia (Stuhols) Schleufer

Son - Elmer Henry Reiner Schleufer
Born - March 24, 1912
Thayer County, Nebraska
Baptized - April 21, 1912
Married - April 9, 1943
Salem Lutheran Church
Superior, Nuckolls County, Nebraska
Died - March 27, 1948
Mary Lanning Hospital
Hastings, Adams County, Nebraska
Buried - March 30, 1948
Salem Lutheran Cemetery, Nuckolls County, Nebraska
Wife - Virginia Ann (Shaw) Schleufer
1stHusband - Elmer Henry Reiner Schleufer
2ndHusband - Lester H. E. Schleufer
Born - August 25, 1919 ۩ Near Nelson, Nuckolls County, Nebraska
Baptized - April 20, 1930
Methodist Church in Nelson, Nuckolls County, Nebraska
Confirmed - July 30, 1944
American Lutheran Church, Rantoul, Champaign County, Illinois
Died - April 26, 2008
Good Samaritan Home, Nelson, Nuckolls County, Nebraska
Buried - April 30, 2008
Salem Lutheran Cemetery, Nuckolls County, Nebraska
Parents - Harry I. & Lora E. (Harris) Shaw
Son - Lester H. E. Schleufer
Born - March 26, 1914
Married - December 15, 1948
Died - May 5, 2001
Superior, Nuckolls County, Nebraska
Wife - Virginia Ann (Shaw) Schleufer
1stHusband - Elmer Henry Reiner Schleufer
2ndHusband - Lester H. E. Schleufer
Born - August 25, 1919 ۩ Near Nelson, Nuckolls County, Nebraska
Baptized - April 20, 1930
Methodist Church in Nelson, Nuckolls County, Nebraska
Confirmed - July 30, 1944
American Lutheran Church, Rantoul, Illinois
Died - April 26, 2008
Good Samaritan Home, Nelson, Nuckolls County, Nebraska
Buried - April 30, 2008
Salem Lutheran Cemetery, Nuckolls County, Nebraska
Parents - Harry I. & Lora E. (Harris) Shaw
Daughter - Edna (Schleufer) Ritterbush Way
Born - December 3, 1916
Nuckolls County, Nebraska
Married - January 27, 1935
Salem Lutheran Church
Nuckolls County, Nebraska
Died - January1974
Buried - Nelson Cemetery
Nelson, Nuckolls County, Nebraska
1stHusband - Charles Jacob Ritterbush
Born - August 14, 1915
Died - August 19, 1959 - Nelson, Nuckolls County, Nebraska
Buried - Nelson Cemetery, Nelson, Nuckolls County, Nebraska
Father - Charles Ellis Ritterbush
Mother - Maude E. (Smith) Ritterbush
2ndHusband - Milo Way

Daughter - Leona Hilka Marie Schleufer
Born - June 1, 1919
Nuckolls County, Nebraska
Died - January 29, 1921
Buried - Salem Lutheran Cemetery
Nuckolls County, Nebraska

Son - Walter Herman Alka Schleufer
Born - November 24,1921
Nuckolls County, Nebraska
Died - March 31,1923
Buried - Salem Cemetery
Nuckolls County, Nebraska
Daughter - Norma (Schleufer) Hastriter
Born -1924
Nuckolls County, Nebraska

Sister - Theta (Torbeck) Marquart
Born - March 19, 1878
Sister - Hilka Johanna (Torbeck) Malpert
Born - March 3, 1880
Sister -Christena (Torbeck) Schleufer
Born - January 16, 1882
Brother - John Torbeck
Born - March 28, 1884

Brother - Fred W. Torbeck
Born - March 14, 1886
Brother - Herman Heinrich Torbeck
Born - November 25, 1889
Sister - Emma (Torbeck) Oestmann
Born - April 11, 1892

Brother - Dietrich "Dick" Torbeck
Born - January 21, 1895
Sister - Dora (Torbeck) Harms
Born - December 17,1896

Sister - Anna (Torbeck) Kienker
Born - September 14, 1900

Father - Reiner Hillerichs Torbeck
Mother - Christena (Dirks) Torbeck


Family Indexes
Home Eltiste Kaiser Fink Rohrs
Thumbnail Family Photo Gallery Index
Last Up-Date 01/15/2012 09:46:35 AM