Eltiste-Kaiser Web Site
---
Torbeck Family
Christena (Dirks) Torbeck
Born - Friday, February 29, 1856
Petersburg, Menard County, Illinois
Married - Wednesday, March 7, 1877
Died - Friday, March 24, 1922
Family Home, Johnson, Nemaha County, Nebraska
Burial - Wednesday, March 28, 1922
Johnson Cemetery
Johnson, Nemaha County, Nebraska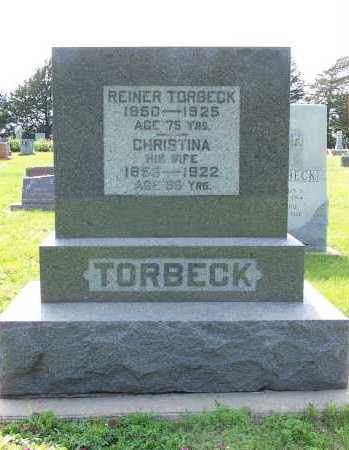 MRS. REINER TORBECK
Answers Summons

Christine Dirks, a daughter of Mrs. and Mrs. John Dirks was born February 29, 1856, at Petersburg, Illinois, and died at the family home in Johnson Saturday afternoon, March 4, 1922 at the age of 66 years and 4 days. At the age of about of about a year the Dirks family moved to Nemaha County, Nebraska and settled southwest of Johnson, in the Stone Church vicinity where the deceased received her training in the Lutheran Faith.
March 7, 1887 Christine Dirks was united in marriage with Reiner Torbeck, an industrious and highly respected farmer of the neighborhood. Eleven children, four sons and seven daughters, were born to this union and the death of the wife and mother is the first one in the large family. In the year 1913, after having lived on a farm for thirty six years, the Torbeck home was established in Johnson.
The past few years the deceased had been afflicted with diabetes, how ever she was able to be about the house most of the time, until the past few days before her death. The bereaved ones are. Her husband Reiner Torbeck, eleven children and their families, Mrs., Theta Marguart, Byron Nebraska, Mrs. Hilka Malpert, Nora, Nebraska, Mrs. Christine Schleufer, Wauneta, Nebraska, Mr. John Torbeck, Byron, Nebraska, Mr. Fred Torbeck, Johnson, Nebraska, Mrs. Augusta Schleufer, Nora, Nebraska, Mr. Herman Torbeck, Byron, Nebraska, Mrs. Emma Oestmann, Auburn, Nebraska, Mr. Dietrich Torbeck, Byron, Nebraska, Mrs. Dora Harms, Byron, Nebraska, Mrs. Anna Kienker, Johnson, Nebraska, four brothers and one sister, Mr. John Dirks, Johnson, Nebraska, Mr. Herman Dirks, Orost, California, Mr. Henry Dirks, Hobart Oklahoma, Mr. Christian Dirks, Beatrice, Nebraska, Mrs. Hannah Jacobs, Larned, Kansas, thirty-six grandchildren, numerous other relatives and many friends.
Funeral services conducted by Reverend William Harder were held at the home and also at the Lutheran Church, Wednesday afternoon March 28, 1922. Interment at Johnson Cemetery.

The Johnson News
Thursday
March 9, 1922


Husband - Reiner Hillerichs Torbeck
Born - Friday, January 11, 1850
Lehr, Ostfriesland, Germany
Immigrated -1864
Married - Wednesday, March 7, 1877
Died - Thursday, May 7, 1925
Johnson, Nemaha County, Nebraska
Burial - Sunday, May 10, 1925
Johnson Cemetery
Johnson, Nemaha County, Nebraska

Daughter - Theta (Torbeck) Marquart
Born - March 19, 1878
Daughter - Hilka Johanna (Torbeck) Malpert
Born - March 3, 1880
Daughter -Christena (Torbeck) Schleufer
Born - January 16, 1882 - Nebraska
Son - John W. Torbeck
Born - March 28, 1884

Son - Fred W. Torbeck
Born - March 14, 1886
Daughter - Augusta (Torbeck) Schleufer
Born - December 6, 1887
Son - Herman Heinrich Torbeck
Born - November 25, 1889

Daughter - Emma (Torbeck) Oestmann
Born - April 11, 1892

Son - Dietrich "Dick" Torbeck
Born - January 21, 1895 - Nebraska
Daughter - Dora (Torbeck) Harms
Born - December 17, 1896
Daughter - Anna (Torbeck) Kienker
Born - September 14, 1900

Brother - Diedrich Dirks
Born - August 20, 1843
Wiesederfehn, Wittmund, Niedersachsen, Germany
Died - March 7, 1890
Nemaha County, Nebraska
Sister - Anna Catharina (Dirks) Yelkin
Born - November 22, 1845
Wiesederfehn, Wittmund, Niedersachsen, Germany
Married - August 23, 1863
Died - July 6, 1909
Lemoore, Kings County, California
Buried - Lemoore Cemetery
Lemoore, Kings County, California
Section-001 Blochk-011 Lot-006 Grave-004
Husband - John Johnson Yelkin
Born - December 18, 1839
Hanover, Stadt Hannover, Niedersachsen, Germany
Civil War Veteran - Private
114th Infantry Regiment - Illinois
Date of Organization - September 18, 1862
Muster Date - August 3, 1865
Died - December 27, 1921 ۩ Lemoore, Kings County, California
Buried - Lemoore Cemetery ۩ Lemoore, Kings County, California
Section-001 Blochk-011 Lot-006 Grave-003
Father - John J. Yelkin
Born - April 30, 1802 ۩ Hanover, Germany
Married - April 30, 1832 ۩ Bagband, Lower Saxony, Germany
Died - February 16, 1882 ۩ Nemaha County, Nebraska
Buried - Saint Johns Lutheran Cemetery, Nemaha County, Nebraska
Mother - Gertrude Rena (Egan) Yelkin
Born - November 12,1806 ۩ Neuemoor, Hanover, Germany
Died - March 4,1883 ۩ Nemaha County, Nebraska
Buried - Saint Johns Lutheran Cemetery, Nemaha County, Nebraska

Brother - Johann W. Dirks
Born - December 7, 1848
Springfield, Sangamon County, Illinois
Died - March 28, 1929
Nemaha County, Nebraska
Buried - Martin Luther Church Cemetery
Nemaha County, Nebraska
Lot-19 Space-B
Wife - Katherine "Kate" (Willms) Dirks
Born - September 12, 1850 ۩ Nebraska
Died - May 26, 1919 ۩ Johnson, Nemaha County, Nebraska
Buried - Martin Luther Church Cemetery , Nemaha County, Nebraska
Lot-19 Space-A
Brother - Henry E. Dirks
Born - February 19, 1851 - Illinois
Married - March 7, 1878
Died - April 13, 1923
Hobart, Garfield County, Oklahoma
Buried - Hobart Rose Cemetery
Hobart, Kiowa County, Oklahoma
Wife - Mary (Rademacher) Dirks
Born - November 8, 1858
Died - February 15, 1942 ۩ Hobart, Kiowa County, Oklahoma
Buried - Hobart Rose Cemetery, Hobart, Kiowa County, Oklahoma
Brother - Herman Dirks
Born - 1852 - Illinois
Brother - Christian Dirks
Born - December 26, 1857
Johnson, Nemaha County, Nebraska
Died - October 13, 1948
Ludell, Rawlins County, Kansas
Sister - Maria Dirks
Born - November 12, 1860
Nemaha County, Nebraska
Died - September 19, 1914
Sister - Johanna Marie (Dirks) Jacobs
Born - October 15, 1863
Nemaha County, Nebraska
Died - February 8, 1935
Gaylord, Smith County, Kansas
Buried - Gaylord Cemetery
Gaylord, Smith County, Kansas
Husband - Peter Jacobs
Born - February 22 1859 ۩ Kansas
Died - June 10, 1945 ۩ Gaylord, Smith County, Kansas
Buried - Gaylord Cemetery, Gaylord, Smith County, Kansas

Father - Johann Dierks
Born - December 13, 1813 - Hanover, Lower Saxony, Germany
Died - March 8, 1884 - Auburn, Nemaha County, Nebraska
Mother - Hilka Maria (Remmers) Dierks
Born - July 16,1822 - Hanover, Lower Saxony, Germany
Died - May 4, 1893 - Auburn, Nemaha County, Nebraska


Family Indexes
Home Eltiste Kaiser Fink Rohrs
Thumbnail Family Photo Gallery Index
Last Up-Date 01/15/2012 09:46:36 AM