Eltiste-Kaiser Web Site
---
Torbeck Family
Herman Heinrich Torbeck
Born - Monday, November 25, 1889
Febing, Nemaha County, Nebraska
Died - Friday, July 3,1964
Byron, Thayer County, Nebraska
Buried - Sunday, July 5, 1964
Johnson Cemetery
Johnson, Nemaha County, Nebraska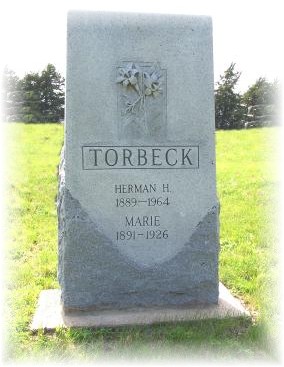 1stWife - Marie Maggie (Nordbrock) Torbeck
Born - November 14, 1891 - Nebraska
Married - May 10, 1917
Died - July 19, 1926
Buried - Johnson Cemetery
Johnson, Nemaha County, Nebraska
Father - Thomas Nordbrock
Mother - Hilka Oltmanns (Bunger) Nordbrock


Wedding Vows Assumed By Worthy Couple

Miss Marie Nordbrock and
Herman Torbeck Wed

Ceremony Was Performed Last Thursday Afternoon
at Stone Church in Presence of Relatives and Friends
To Live In Johnson

The marriage of Miss Marie Nordbrock and Herman Torbeck
took place last Thursday afternoon at the Stone church, the
ceremony being performed by the Pastor Rev. E. Pett, in the
presence of a company of relatives and friends. At three o'clock
the bride and groom entered the church attended by Miss Dora
Torbeck, sister of the groom and Mr. Otto Harms. The bride
looked charming in a white satin gown with long tulle veil and
carried an armful of white carnations. Following the ceremony
and congratulations a wedding reception was held at the home
of the bride's mother.
This ceremony united in marriage two well known and popular
young people who came from among the best families of the
county. The bride is a daughter of Mrs. Hilke Nordbrock and
was raised in this community where she is well known and is
admired by all because of her many beautiful traits of character
and her sunny disposition. She has always been popular in the
life of the neighborhood and will be missed by those with whom
she has been associated.
The groom is the son of Mr. and Mrs. R. Torbeck of Johnson
and having spent his life in this community he has a wide
acquaintance and enjoys the confidence of all who know him.
He is a young man of sterling character and habits of industry
and one who commands the respect of everybody. At present
he is a manager of the elevator at Johnson. The young couple
went to their new home they took the sincere congratulations
of good wishes of many friends who trust that happiness and
prosperity may await them in the years to come.

Nemaha County Herald
Friday
May 18, 1917


2ndWife - Emma Barbara Weber (Mittelberg) Torbeck
Born - October 25, 1892
Married - January 18, 1933
Died - May 12, 1980
Johnson County Hospital
Auburn, Nemaha County, Nebraska
Buried - May 12, 1980
Park Hill Cemetery
Syracuse, Otoe County, Nebraska

Son - Melvin Herman Torbeck
Born - April 28, 1923
Son - Harold Herman Torbeck
Born - July 9, 1926

Sister - Theta (Torbeck) Marquart
Born - March 19, 1878
Sister - Hilka Johanna (Torbeck) Malpert
Born - March 3, 1880
Sister -Christena (Torbeck) Schleufer
Born - January 16, 1882
Brother - John W. Torbeck
Born - March 28, 1884

Brother - Fred W. Torbeck
Born - March 14, 1886
Sister - Augusta (Torbeck) Schleufer
Born - December 6, 1887

Sister - Emma (Torbeck) Oestmann
Born - April 11, 1892

Brother - Dietrich "Dick" Torbeck
Born - January 21, 1895
Sister - Dora (Torbeck) Harms
Born - December 17, 1896

Sister - Anna (Torbeck) Kienker
Born - September 14, 1900


Father - Reiner Hillerichs Torbeck
Mother - Christena (Dirks) Torbeck


Family Indexes
Home Eltiste Kaiser Fink Rohrs
Thumbnail Family Photo Gallery Index
Last Up-Date 09/11/2014 08:46:19 PM