Eltiste-Kaiser Web Site
---
Fink Family
Robert Lee Fink
Born - March 29, 1936
Speed, County, Kansas
Died - Thursday, January 17, 2008
Hutchinson County, Kansas
Buried - Thursday, January 24, 2008
Agra Cemetery
Agra, Phillips County, Kansas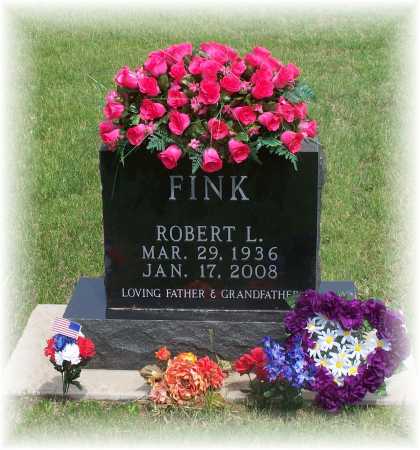 Robert L. Fink

Robert L. Fink, 71, McPherson, formerly of Phillipsburg, died Thursday, January 17, 2008, in Hutchinson.
He was born March 29, 1936, in Speed to Edward L. and Martha (Huskey) Fink.
He graduated from Eastern Heights High School, Agra.
He worked at Farmland Refinery, Phillipsburg, and NCRA, McPherson, for 37 years.
He served in the National Guard for seven years.
Survivors include a daughter, Diana L. Collins, Wichita; two brothers, Lewis Fink, Loveland, Colorado, and Ralph Fink, Phillipsburg; two sisters, Irene Tucker, Cherokee Village, Arkansas, and Betty Davis, Anna, Illinois; and a grandson.
Services will be at 10:30 a.m. Thursday at Olliff-Boeve Chapel, Phillipsburg; burial in Agra Cemetery.
Visitation will be from 5 to 8 p.m. Monday, with family present from 6 to 8 p.m. at Glidden-Ediger Chapel, McPherson.
Memorials are suggested to Hutchinson Hospital Foundation in care of the chapel

The Hutchinson News
Saturday
January 19, 2008


Daughter - Diana L. (Fink) Collins

Brother -Edward John Fink
Born - December 7, 1931
Sister - Irene Marie (Fink) Tucker
Born -September 20, 1933
Sister - Betty Lou (Fink) Davis
Born - June 28,1938
Brother - Leonard Lee Fink
Born - January 28, 1940
Brother- Lewis William Fink
Born -October 26, 1942
Brother-Ralph Henry Fink
Born -January 5, 1945

Father - Edward John Fink
Mother - Martha L. (Huskey) Fink



Family Indexes
Home Fink Kaiser Eltiste Rohrs
Eltiste Photos Kaiser Photos Rohr Photos Fink Photos
Last Up-Date 05/27/2008 03:39:38 PM