Eltiste-Kaiser Web Site
---
Adcock Family
Harold Edwin Adcock
Born - Tuesday, November 2, 1909
Alma, Harlan County, Nebraska
Married - Thursday, June 25, 1931
Brock, Nemaha County, Nebraska
Baptized - 1944
Presbyterian Church
Bancroft, Cuming County, Nebraska
Died - Sunday, May 16, 2004
Auburn, Nemaha County, Nebraska
Buried - Thursday, May 20, 2004
Lafayette Cemetery
Nemaha County, Nebraska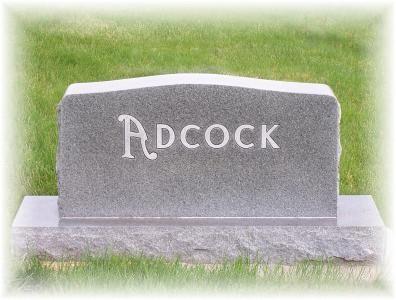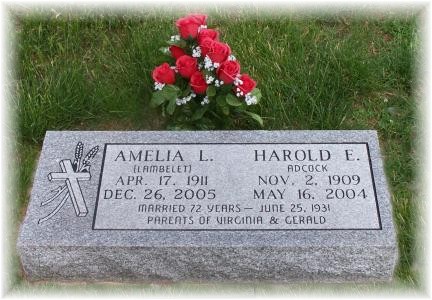 Wife - Amelia Lucille "Millie" (Lamblet) Adcock
Born - Monday, April 17, 1911
Brock, Nemaha County, Nebraska
Died - Monday, December 26, 2005
Auburn, Nemaha County, Nebraska
Buried - Saturday, December 31, 2005
Lafayette Cemetery
Brock, Nemaha County, Nebraska
Parents - August V. & Matilda (Sandoz) Lamble
Amelia ADCOCK


Amelia was the fourth child of 7.
Her parents were August V. and Matilda (Sandoz) Lamblet. She died at the age of 94 years, eight months and nine days.
She graduated from Brock High School in 1929. She was baptized at the Brock Methodist Church and was a life long member of that congregation.
She married June 25, 1931 to Harold Edwin Adcock of Brock, Nebraska. They had one son, Gerald L. and wife Carolyn. and a daughter, Virginia who preceded her in death. and six grandchildren.
In 1952 they moved to Lincoln, Nebraska. In 1955, The Adcock's purchased their farm north of Brock, Nebraska. from Amelia's mother, Matilda Lambelet, and they lived there until 2004 when Harold died.
Funeral services were held December 31 at the Brock United Methodist Church.
She was also preceded in death by a great granddaughter Amelia Lindsey Swan. a sister Eloise (Lambelet) Clark and brothers Alcide, Edmund and Victor.



Daughter - Virginia (Adcock) Brice
Born - Thursday, January 21, 1932
Died -Friday, April 6, 1979
Douglas County, Nebraska
Buried - Lafayette Cemetery
Brock, Nemaha County, Nebraska
Daughter - Jennifer Brice


Son - Gerald Leroy Adcock
Born - Friday, March 10, 1933
Wife - Carolyn D. (Eyres) Adcock
Born - Thursday, April 12, 1934
Daughter - Virginia Adcock

½Sister - Lula J. (Adcock) Arnold
Born - Sunday, July 29, 1888
½Sister - Dollie M. (Adcock) Hampton
Born - Sunday, February 6, 1890

½Brother - Joseph Quincy Adcock
Born - Saturday, September 3,1892

Brother -Charles Monroe Adcock
Born - Sunday, October 9, 1898


Brother - Lester Clarence Adcock
Born - Wednesday, April 17, 1901
Brother - Cecil L. Adcock
Born - Wednesday, September 23, 1903

Sister - Bernice Adcock
Born - Sunday, January 29, 1905
Died - Tuesday, March 21, 1905
Buried - Thursday, March 23, 1905
Tecumseh Cemetery
Tecumseh, Johnson County, Nebraska
Block -183 Lot - 3
1Month 22Days


Brother - Elmer Claud Adcock
Born - Tuesday, January 2, 1906

Brother - Vernon Richard Adcock
Born - Saturday, May 23, 1908
Brother - Glen Adcock
Born - Friday, January 13, 1911
Died - Friday, February 24, 1911
1 Month 9 Days


Brother - Marion Francis "Bill" Adcock
Born - Monday, May 6, 1912
Brother - Ralph Adcock
Born - Friday, January 30, 1914

Sister - Helen Evelyn Adcock
Born - December1916 - Nebraska
Died -1929
Buried - Tecumseh Cemetery
Tecumseh, Johnson County, Nebraska
Block -183 Lot - 3


Father - Joseph Lee Adcock

Mother - Minnie Jane (Combs) Adcock


Family Indexes
Home Eltiste Kaiser Rohrs Fink
Family Thumbnail Photo Gallery Index
Last Up-Date 06/06/2012 08:53:52 PM