Eltiste-Kaiser Web Site
---
Adcock Family
Joseph Lee Adcock
Born - Tuesday, January 17, 1865
Rockport, Atchison County, Missouri
2ndMarried - Thursday, December 23, 1897
Peru, Nemaha County, Nebraska
Died - Monday, August 2, 1948
Brock, Nemaha, County, Missouri
Buried - Thursday, August 5, 1948
Tecumseh Cemetery
Tecumseh, Johnson County, Nebraska
Block -183 Lot - 3


Well Known Brock Resident Died

Joseph Lee Adcock, 84, died at 1 o'clock Monday
morning of a heart attack.
The retired Brock poultry and cream station operator formerly
lived at Rock Port, where he was born January 17, 1865, the
son of Mr. and Mrs. Joseph Adcock.
On December 23, 1897, he married Minnie Combs at Peru, Nebraska.
He was a member of the Christian church and the Masonic lodge at Brownville
Surviving are the widow and these children: Mrs. Foster Arnold,
San Francisco; Joe, Nebraska City; Charles, Kearney;
Clarence, Brock: Elmer, Peru; Harold, Bancroft, Nebraska;
Marion, Falls City; Ralph, Douglas. Three children, Cecil,
Vernon and Helen predeceased their father.
Also surviving are 25 grandchildren and five great-grandchildren.
The body was taken to the Casey Brothers mortuary at
Johnson. Funeral services are to be held Thursday (today) at
1:00 p.m., at the Brock Christian church with Rev. Ward Merritt
officiating. Interment will be at the Tecumseh cemetery,
with Masonic Rites.

Nemaha County Herald
Thursday
August 5, 1948

---

OBITUARY

JOSEPH LEE ADCOCK

Joseph Lee Adcock was born near Rock Port, Missouri,
January 17, 1865, the son of Joseph I. Adcock and Louisa Barger.
He passed away August 2, 1948 at the age of 83 years, six months and 15 days.
He came to Nebraska at an early age and has lived in
the state since. At the age of 21, he was united in marriage
to Sarah Brush of the London vicinity. There were three
children born to this union. Lula, Joe and Dollie, the latter now deceased. The mother of these children passed away when they were small and they were reared by their grandparents.
In 1897 he was united in marriage to Minnie Combs, near Peru, who with six sons survive him. He was preceded in death by Cecil and Vernon and two infants.
Joseph operated the Brock Poultry and Cream station.
Mr. and Mrs. Adcock celebrated their 50th wedding anniversary last December.
Joseph operated the Brock Poultry and Cream station.
He was engaged in the produce business in Brock for the past 15 years, until retiring last fall.
The deceased has been a member of the Masonic lodge for 47 years and has held the Jordan medal for several years, which was bestowed upon him by the Brownville Lodge No. 4 A. F. & A. M. He was a kind father and a good neighbor.
He is survived by his widow, daughter, Mrs. Lula Arnold, San Francisco, California; sons, Joe of Nebraska City; Charles M. , Kearney; Lester C., Brock; Elmer C., Peru; Harold E., Bancroft; Marion (Bill), Falls City and Ralph, Douglas. There are also 31 grandchildren, 10 great-grandchildren, several nieces and nephews,
and a host of friends.
Funeral services were held Thursday, August 5, at 1:00 p.m.,
at the Brock Christian church with Rev. Ward Merritt of Humboldt, officiating. A quartette composed of Mrs. John Marrs, Mrs. Floyd Christy, S. B. Young, and Everett Rutledge sang. There accompaniment was played by Mrs. Chandler Christy.
Pallbearers were: Dean Walker Jr., Omer Hannaford,
Hanson Aldrich, Wm Hawley, Al Jennings and John Marrs.
Interment was made in the Tecumseh cemetery with the
Masonic rites at the grave in charge of the
Brownville lodge No. 4 A. F. & A. M.
Funeral arrangements were in charge of Casey Brothers, Johnson.
Those attending from a distance were: Joe and Sharon Adcock
of Nebraska City; Mr. and Mrs. Charles Adcock, Kearney;
Ross Adcock, Denver; Mr. and Mrs. Chas. E. Adcock,
Holdrege; Dean and Dale Adcock, Ainsworth; Mrs. Hedrick,
Ainsworth; Mrs. Doris Stern, Johnstown; Mr. and Mrs. Harold
Adcock, Virginia and Jerry of Bancroft; Mr. and Mrs. Elmer
Adcock and family of Peru; Marion (Bill) of Falls City;
Ralph Adcock and Gene of Douglas; Mr. and Mrs. H. L. Combs, Hastings; Mrs. Brommer and sons, Hastings; Mrs. and Mrs. A. L. Steiner, Burchard and Mrs. L. E. Seaman of York.


Nemaha County Herald
Thursday
August 12, 1948


Conferred First Degree of Masonic Lodge on Both Son and Grandson
In the annals of Free Masonry J.L. Adcock has established something of a unique record, in the conferring of the First Degree upon his son, C.W. Adcock, and his grandson, Ross Adcock.
Mr. Adcock's interest in the Masonic lodge work dates back to a period in his youth, when he, with his mother, attended a Masonic funeral. At that time he told his mother that someday he was going to be a Mason. That desire was culminated on December 2, 19, 1900, when at Rockport, Missouri, the place of his birth, 78 years ago, he was taken into the Masonic order.
Mr. Adcock recalls with interest his reaction at being told that he must commit to memory a great portion of the ritualistic work. he thought at that time that he had been handed an awful package, but with time and effort the memory work was soon done. Since that time he has held several offices in the Masonic order. He was a charter member of the lodge at Huntley, Nebraska, of which lodge he was the Senior Warden and second master. He was a member of the Peru Lodge No. 14 and is now a member of the Nemaha Valley Lodge No. 4.
Mr. Adcock said that when his oldest son became of age, he took him a petition asking him if he would fill it out, which the son did, and the father was permitted to confer the degree work upon him. 24 years later when his grandson , Ross, was accepted into the Masonic order, Mr. Adcock was granted the privilege of conferring the First degree upon him at Hastings, on April 11.
From Nadine Fahrlander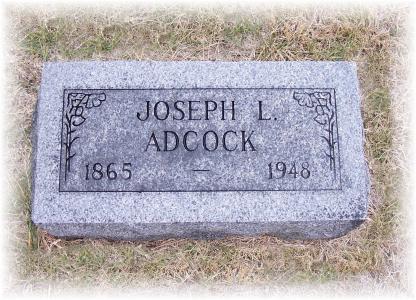 1stWife - Sarah M. (Brush) Adcock
Born - Thursday, November 7, 1867
Died - Wednesday, June 6, 1894
Peru, Nemaha County, Nebraska
Buried - London Cemetery
Nemaha County, Nebraska
Section-2 Plot-23

Daughter - Lula J. (Adcock) Arnold
Born - Sunday, July 29, 1888
Daughter - Dollie M. (Adcock) Hampton
Born - Thursday, February 6, 1890

Son - Joseph Quincy Adcock
Born - Saturday, September 3,1892

Back Row-Elmer, Clarence, Harold, Joe Q, & Marion
Front Row - Charles, Joseph Lee, Minnie,& Ralph



2ndWife - Minnie Jane (Combs) Adcock
Born - Wednesday, September 23, 1874
Corning, Cedar County, Missouri
Died - Friday, August 26, 1955
Auburn, Nemaha County, Nebraska
Buried - Monday, August 29, 1955
Tecumseh Cemetery
Tecumseh, Johnson County, Nebraska
Block -183 Lot - 3

Son - Charles Monroe Adcock
Born - Sunday, October 9, 1898


Son - Lester Clarence Adcock
Born - Wednesday, April 17, 1901
Son - Cecil L. Adcock
Born - Wednesday, September 23, 1903
Daughter - Bernice Adcock
Born - Sunday, January 29, 1905
Died - Tuesday, March 21, 1905
Buried - Thursday, March 23, 1905
Tecumseh Cemetery
Tecumseh, Johnson County, Nebraska
Block -183 Lot - 3
1Month 22Days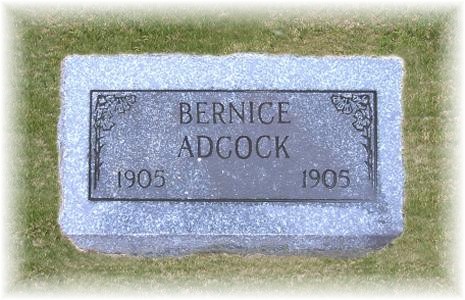 Son - Elmer Claud Adcock
Born - Tuesday, January 2, 1906

Son - Vernon Richard Adcock
Born - Saturday, May 23, 1908

Son - Harold Edwin Adcock
Born - Tuesday, November 2, 1909
Son - Glen Adcock
Born - Friday, January 13, 1911
Died - Friday, February 24, 1911
1 Month 9 Days


Son - Marion Francis "Bill" Adcock
Born - Monday, May 6, 1912
Son - Ralph Adcock
Born - Friday, January 30, 1914
Daughter - Helen Evelyn Adcock
Born - December1916 - Nebraska
Died -1929
Buried - Tecumseh Cemetery
Tecumseh, Johnson County, Nebraska
Block -183 Lot - 3

Father - Joseph Quincy Adcock
Mother - Louisa Anzella (Barger) Adcock


Family Indexes
Home Eltiste Kaiser Rohrs Fink
Family Thumbnail Photo Gallery Index
Last Up-Date 06/06/2012 10:08:58 PM