Eltiste-Kaiser Web Site
---
Adcock Family
Marion Francis "Bill" Adcock
Born - Monday, May 6, 1912
Near Peru, Nemaha County, Nebraska
Married - Monday, January 19, 1942
Atchison County, Missouri
Died - Sunday, January 31, 1982
Villa Care Center
Falls City, Richardson County, Nebraska
Buried - Wednesday, February 3, 1982
Tecumseh Cemetery
Tecumseh, Johnson County, Nebraska
Block -183 Lot - 3
69-Years 8-Months 25Days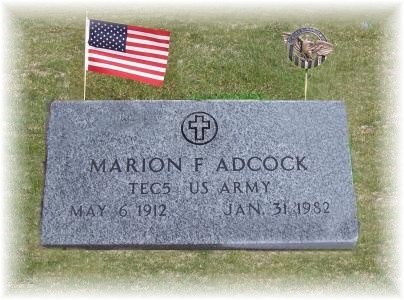 Obituary

In Memoriam
Marion F. Adcock

Marvin Francis Adcock, son of Joseph Lee and Millie
Combs Adcock, was born near Peru May 6, 1912,
one of eleven children.
"Bill" started in the Rosewood rural school near Brock,
attended school near Ainsworth, started high school in Auburn
and graduated from Brock high school in 1931. He went on
to attend Kearney State College.
Bill worked in western states for a time and prior to World
War II went to work for the Missouri Pacific Railroad. During
World War II he served in the 729th Railroad Battalion in Europe.
January 19, 1942 he was married to Opal M. Brown at Atchison,
Kansas. After the war, Bill returned to Falls City to work for the
Missouri Pacific Railroad. Poor health forced his retirement
and he operated a rubber stamp business for ten years.
He had been in failing health for a number of years. He was
hospitalized in Omaha for 20 days. The past week he was cared
for at the Midlands Villa Care Center in Falls City, where
he died January 31, 1982. He had reached the age of 69 years,
eight months and 25 days.
He was preceded in death by his parents, five brothers, two
sisters, one half-brother and two half-sisters.
Surviving are his wife, Opal of Falls City, three brothers,
Elmer Adcock of Farragut, Iowa, Harold Adcock of Brock,
and Ralph Adcock of Fremont; other relatives, and many friends.
Funeral services were held February 3 at Casey-Witzenburg
chapel in Auburn, conducted by Reverend Ward Merritt.
Pallbearers were Wilbur Brown, Robert Leibsch, Cleland
Schmucker, Ival Schmucker, Fred Lockwood and Henry Jeanneret.
Burial was in the Tecumseh cemetery, with military graveside
services by the Tecumseh American Legion post.

Auburn Press Tribune
Tuesday
February 9, 1982


1 st Wife - Audrey (Hier) Adcock
2 ndWife - Opal M. (Brown) Adcock
Born - Friday, August 18, 1904
Brock, Nemaha County, Nebraska
Married - Monday, January 19, 1942
Atchison, Atchison County, Kansas
Died - Sunday, June 11, 1995
Community Hospital
Falls City, Richardson County, Nebraska
Buried - Wednesday, June 14, 1995
Glenrock Cemetery
Nemaha County, Nebraska
89-Years 9-Months 24-Days

Obituary

Opal M. Adcock

Opal M. Adcock, 90 Falls City Care Center, Formerly of 206 East 8th Street, died at the Fall City Community Hospital at 2:05 A.M. Sunday, June 11, 1995.
Mrs. Adcock had entered the hospital on June 9. She entered Ketter Manor after suffering a stroke and being hospitalized for a time. She entered Falls City Care Center in October, 1994.
A daughter of the late George Brown and Victoria Reimers Brown, she was born August 18, 1904, in Brock. She was raised in Brock, graduating from Brock High School. Shecontinued to live in Brock until her marriage to Marion F. Adcock on January 19, 1942, in Atchison, Kansas.
Following his military service in World War II, the couple established their home in Falls City. Mr. Adcock died January 31, 1982.
Survivors include one sister, Lola Phallen, Graceville, Minnesota,
nephews and a niece(s).
She was preceded in death by two brothers, Wilber Brown and
Melvin Brown, and one sister, Mabel McCallum.
Funeral services for Mrs. Adcock will be held at 3 p.m.,
Wednesday at the graveside in the Glenrock Cemetery,
southeast of Brock. The Reverend Richard Don will officiate.
The body of Mrs. Adcock is at the Dorr Funeral Home, where
it will lie in state until being taken to he cemetery to lie in
state from 2:30 p.m., Wednesday until the time of the service.

Falls City Journal
Tuesday
June 13, 1995



½Sister - Lula J. (Adcock) Arnold
Born - Sunday, July 29, 1888
½Sister - Dollie M. (Adcock) Hampton
Born - Sunday, February 6, 1890

½Brother - Joseph Quincy Adcock
Born - Saturday, September 3,1892

Brother - Charles Monroe Adcock
Born - Sunday, October 9, 1898


Brother - Lester Clarence Adcock
Born - Wednesday, April 17, 1901
Brother - Cecil L. Adcock
Born - Wednesday, September 23, 1903

Sister - Bernice Adcock
Born - Sunday, January 29, 1905
Died - Tuesday, March 21, 1905
Buried - Thursday, March 23, 1905
Tecumseh Cemetery
Tecumseh, Johnson County, Nebraska
Block -183 Lot - 3
1Month 22Days


Brother - Elmer Claud Adcock
Born - Tuesday, January 2, 1906

Brother - Vernon Richard Adcock
Born - Saturday, May 23, 1908

Brother - Harold Edwin Adcock
Born - Tuesday, November 2, 1909
Brother - Glen Adcock
Born - Friday, January 13, 1911
Died - Friday, February 24, 1911
1 Month 9 Days
Brother - Ralph Adcock
Born - Friday, January 30, 1914

Sister - Helen Evelyn Adcock
Born - December1916 - Nebraska
Died -1929
Buried - Tecumseh Cemetery
Tecumseh, Johnson County, Nebraska
Block -183 Lot - 3


Father - Joseph Lee Adcock

Mother - Minnie Jane (Combs) Adcock


Family Indexes
Home Eltiste Kaiser Rohrs Fink
Family Thumbnail Photo Gallery Index
Last Up-Date 06/06/2012 09:12:53 PM