Eltiste-Kaiser Web Site
---
Adcock Family
Lester Clarence Adcock
"Clarence Adcock"
Born - Wednesday, April 17, 1901
Peru, Nemaha County, Nebraska
Married - Friday, November 17, 1944
Auburn, Nemaha County, Nebraska
Died - Sunday, June 15, 1969
Saint Mary's Hospital
Nebraska City, Otoe County, Nebraska
Buried - Wednesday, June 18, 1969
Tecumseh Cemetery
Tecumseh, Johnson County, Nebraska
Block -183 Lot - 3

Obituary

In Memoriam
Lester C. Adcock

Lester Clarence Adcock, son of Joseph Lee and Minnie Jane
Combs Adcock, was born on a farm near Peru on April 17, 1901,
one of eleven children.
When he was a child the family moved near Brownville
and Clarence started at the Wheeldon rural school. Later the
family moved south of Brock and he completed his education
in the Rosewood rural school.
He married Sylvia Lentz on November 17, 1944 at Auburn.
They continued to live at Brock.
Clarence was in the Army in World War II and served in Alaska.
He was a member of the Eagle Lodge at Nebraska City and
the American Lodge Post at Talmage.
Clarence had been ill some three months. He was taken to
Saint Mary's Hospital in Nebraska City, where he died
June 15, 1989, having reached the age of 68 years, one month
and 29 days.
He was preceded in death by his parents, one step-son, three
brothers, and two sisters.
Surviving are his wife, Sylvia, of Brock; five brothers, Charles of
Kearney, Elmer of Farragut, Iowa, Ralph of Fremont, Marion
of Falls City and Harold of Brock; other relatives, and a great
many friends.
Funeral services were held June 18 at the Casey funeral chapel
in Auburn, conducted by Reverend Ward Merritt.
Pallbearers were Olin Teten, Stan Ritter, Don Baderg,
John Grafton, Floyd Bowen and Henry Goehring.
Mrs. Olin Teten and Mrs. Jack Little were in charge of flowers.
Burial was in the Tecumseh cemetery.

Auburn Press Tribune
Tuesday
July 1. 1969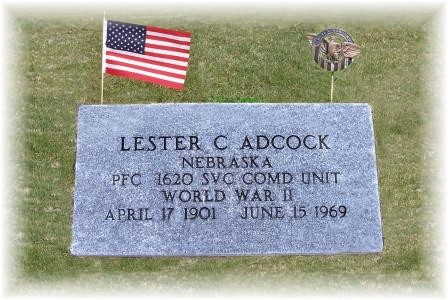 1 stWife - Jewell (Anderson) Adcock
2 ndWife - Sylvia (Lentz) Adcock

½Sister - Lula J. (Adcock) Arnold
Born - Sunday, July 29, 1888
½Sister - Dollie M. (Adcock) Hampton
Born - Sunday, February 6, 1890

½Brother - Joseph Quincy Adcock
Born - Saturday, September 3,1892

Brother - Charles Monroe Adcock
Born - Sunday, October 9, 1898
Brother - Cecil L. Adcock
Born - Wednesday, September 23, 1903

Sister - Bernice Adcock
Born - Sunday, January 29, 1905
Died - Tuesday, March 21, 1905
Buried - Thursday, March 23, 1905
Tecumseh Cemetery
Tecumseh, Johnson County, Nebraska
Block -183 Lot - 3
1Month 22Days

Brother - Elmer Claud Adcock
Born - Tuesday, January 2, 1906

Brother - Vernon Richard Adcock
Born - Saturday, May 23, 1908

Brother - Harold Edwin Adcock
Born - Tuesday, November 2, 1909
Brother - Glen Adcock
Born - Friday, January 13, 1911
Died - Friday, February 24, 1911
1 Month 9 Days


Brother - Marion Francis "Bill" Adcock
Born - Monday, May 6, 1912
Brother - Ralph Adcock
Born - Friday, January 30, 1914

Sister - Helen Evelyn Adcock
Born - December1916 - Nebraska
Died -1929
Buried - Tecumseh Cemetery
Tecumseh, Johnson County, Nebraska
Block -183 Lot - 3


Father - Joseph Lee Adcock

Mother - Minnie Jane (Combs) Adcock


Family Indexes
Home Eltiste Kaiser Rohrs Fink
Family Thumbnail Photo Gallery Index
Last Up-Date 06/06/2012 08:46:02 PM